Arcane Aegis is an Arcane Enhancement that provides a chance whenever the player receives damage to regenerate Warframe Shields for a short time.
| Rank | Chance | Effect | Duration |
| --- | --- | --- | --- |
| 0 | 1.5% | 15 | 5 sec |
| 1 | 3% | 30 | 10 sec |
| 2 | 4.5% | 45 | 15 sec |
| 3 | 6% | 60 | 20 sec |
Acquisition
Edit
Successfully completing the Jordas Verdict will award each member of the group a copy of the same random arcane. Arcane Aegis is a rare arcane and can be found extremely infrequently.
Arcane Aegis causes the innate Warframe shield regeneration to activate regardless of whether the player has recently taken damage, with a bonus flat +60 shield regeneration per second to it (at rank 3). It means the actual regeneration rate is much higher if we take into account the innate regeneration.

While the bonus shield per second is not affected by Fast Deflection nor Fortitude, the innate shield regeneration is, causing the enchantment to be more potent with these mods equipped.
As soon as the effect activates, the innate shield regeneration and bonus shield regeneration remain active for the entire duration of the buff, even if the player takes damage.

Does not generate overshields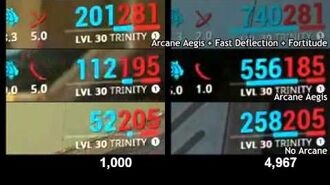 Ad blocker interference detected!
Wikia is a free-to-use site that makes money from advertising. We have a modified experience for viewers using ad blockers

Wikia is not accessible if you've made further modifications. Remove the custom ad blocker rule(s) and the page will load as expected.