Bolto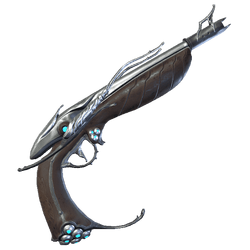 Statistics
Utility
| | |
| --- | --- |
| Firing Rate | 6.8 (6.833) rounds/sec |
| | |
| --- | --- |
| Magazine Size | 15 rounds/mag |
Normal Attacks
Miscellaneous
CODEX Entry: Bolto
The Bolto fires slow, heavy bolts that are capable of impaling enemies to walls.
The Bolto is a Tenno pistol that fires piercing bolts with a noticeable travel time.
This weapon can be sold for
‍5,000.
Characteristics
This weapon deals primarily Puncture damage.
Advantages:
High rate of fire.
Infested Runners do not explode upon death when killed by this weapon.
A polarity slot for Deep Freeze.
No bullet spread.
Deals significantly more Puncture damage than the Boltor.
Physical Damage is tied with Magnus.
Disadvantages:
Slow projectile speed. (faster after update 11.3)
Crafting requires a spare Lato.
High resource requirements to build.
Awkward to use over long distances(due to the bolts having a travel time).
Low status chance.
Acquisition
The Bolto can be purchased for 
‍175 and the blueprint for 
‍15,000.
Manufacturing Requirements

| Resource | Quantity |
| --- | --- |
| Lato | 1 |
| Polymer Bundle | 800 |
| Orokin Cell | 2 |
| Neurodes | 2 |
| Credits | 20,000 |
| Build Time | 12 hours |
| Rush Build | ‍25 |
Weapon Loadouts
Main article: Category:Bolto Build
See the user build section for builds using this weapon.
Tips
Higher fire rate can be achieved by tapping the trigger at specific intervals, not quickly tapping the trigger, as the fire rate will be lower.
Notes
Bolts pin killed enemies to walls or floors.
Bolto can puncture a container and has a 100% chance to destroy the container behind it. The Akbolto does not have this capability.
See also