Boltor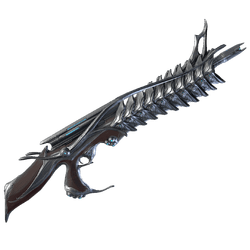 Statistics
Utility
| | |
| --- | --- |
| Firing Rate | 8.8 rounds/sec |
| | |
| --- | --- |
| Magazine Size | 60 rounds/mag |
Normal Attacks
Miscellaneous
The BOLTOR is an automatic rifle that rapidly fires heavy bolts that can pin your foes to the walls.

–In-Game Description
This weapon can be sold for
 7,500.
Characteristics
This weapon deals primarily Puncture damage.
Advantages:
Good rate of fire.
Deals high Puncture damage which will ignore the armor of most enemies, allowing it to do full damage to normally protected body parts.
Decent accuracy.
A polarity slot, good for either Cryo Rounds or Rifle Aptitude.
Low Recoil.
100% stagger against Grineer.
Infested Runners don't explode on death when killed by the projectiles of this weapon.
Disadvantages:
Its damage type will deal reduced damage to a few enemies, notably Grineer Commanders and Seekers.
Slow projectile speed.
Bolts have diminished accuracy medium to long range.
Relatively low base damage.
Inefficient ammo economy.
Acquisition
Upon reaching Mastery Rank 2 the Boltor can be purchased for
150 or its blueprint for
15,000.
Weapon Loadouts
Main article: Category:Boltor Build
See the user build section for builds using this weapon.
Tips
Use the Rifle Ammo Mutation mod to gain extra ammo if needed, or alternatively bring along Team Ammo Restore.
Aternatively, bring along a good sidearm/melee weapon if in a tight spot with no ammo.
Mods like Ammo Drum can also help with ammo efficiency problems.
Notes
This weapon was introduced on January 30, 2013.
An update on February 5th, 2013 nerfed the Boltor to have 12.5 damage per shot. Soon after it was given a slight buff to 18.0 damage per shot, which is still less than the 25 on its initial release.
On April 12, 2013, an update addressed the issue of frame-rate affecting the fire-rate of weapons and several weapons have had their baseline values changed. This update reduced the firing rate value of the Boltor from 11.7 to 8.8.
Trivia
See Also
Bolto, sidearm counterpart of this gun.
Media