Bosses are a unique enemy class outfitted with superior weapons, high health, rechargeable shields, special abilities, and other traits. They are far stronger than regular units as they will use varying strategies to deal damage and avoid taking it. More often than not, they require team coordination to defeat.
Bosses are found on Assassination missions. Each boss has a set of lines to "taunt" the Tenno sent to kill them. They drop mods and resources upon death. Depending on which Boss the player is fighting, Blueprints of Warframes parts and special Weapons parts will often be rewarded upon mission completion.
On the other hand Assassins hunt players in random locations. Their appearance are triggered by various actions done by the player, such as killing a Boss or assisting an opposing Factions in Invasion missions.
Main article: Captain Vor
For his Corrupted version, see Corrupted Vor.
Captain Vor Is one of the few figures in the game that understands ancient Orokin technology, going as far as utilizing it and merging it with Grineer technology to create offensive weapons such as his trademark Seer pistol and also his armor, which is powered by a Void Key and grants him a powerful ranged beam attack. Captain Vor can be encountered in three locations currently, making him the most recurring boss beside assassins. First appearing on Mercury and thus being the first boss that players must fight, he then appears again, somehow fully alive, on Phobos as a dual boss battle alongside Lieutenant Lech Kril, then appearing later yet again as a Corrupted version of himself within the Void.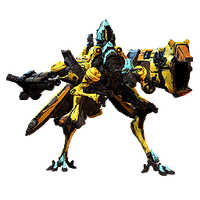 Main article: Councilor Vay Hek
Councilor Vay Hek is the final boss of Earth. He is the most political Grineer figure players meet, marked by the Lotus for extermination for upsetting the balance in the system by killing several political opponents. Vay Hek is also heavily modified with Grineer alterations, with little flesh left noticeable while he rides in his giant Terra Frame.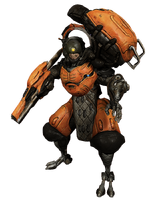 Main article: General Sargas Ruk
General Sargas Ruk is the final boss of the Saturn system. The head of one of the Grineer Artifact extraction projects, Sargas Ruk was targeted by the Lotus for annexing Tenno-controlled dig sites. Ruk enjoys Grineer augmentation, even going as far as replacing the lower part of his arm with a flamethrower and replacing his normal vision with a single augmentation in the center of his helmet.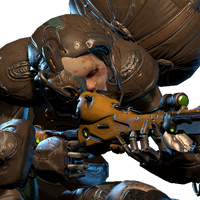 Main article: Kela De Thaym
Kela De Thaym is the boss of Sedna. According to the Lotus, all female Grineer undergo combat training. However, in Kela's case, she was the most battle hungry and extended her own term another decade before returning to the Grineer council. She has influence within the council, which is the main reason why the Lotus has targeted her for assassination as her death would cause a power vacuum in the system. The only female Grineer boss players encounter, she was specifically built for combat personally by the Sisters, with most of her body replaced with augmentations.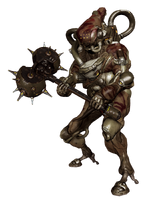 Main article: Lieutenant Lech Kril
Lieutenant Lech Kril is the final boss of Ceres, and makes an appearance on Phobos alongside Captain Vor as a dual boss battle on the planet. A revered war hero to the Grineer, Lotus has targeted Kril so that his death could create possible instability within the Grineer and intimidate them, although she also fears he may become a martyr with Grineer riled up to avenge his death as a result. His rank as a "war hero" is rather strange considering his apparent low rank in the Grineer military, although his near impenetrable body suit and massive temper may prove that he is indeed as ruthless as Grineer say he is.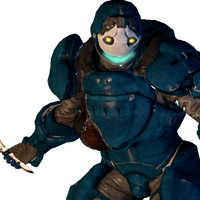 Main article: Tyl Regor
Tyl Regor is the final boss of the Uranus system and the head researcher focusing on Grineer gene repair in an attempt to reverse the negative effects from excessive cloning. He was targeted by the Lotus in order to slow down this progress, ensuring that the Grineer do not become more powerful. He apparently has an interest in fashion somewhat, as some of his remarks in the mission hint at, such as mocking the player's Warframe by comparing it to a Halloween costume.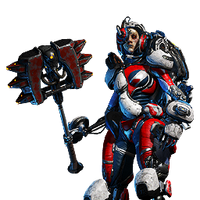 Main article: Sprag
Sprag is a special Grineer mini-boss unit encountered during Orokin Sabotage missions where Grineer are the dominant enemy, who is one of the two units who hold the Void Key necessary to close the Void Portal. She possesses a jet pack identical to that used by Hellions that grants her excellent mobility, and can use her Manticore Axe and other special melee abilities to engage Tenno in close combat. Sprag is always seen with her sister mini-boss, Ven'kra Tel.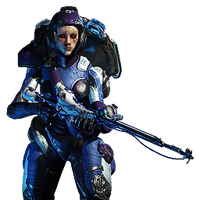 Main article: Ven'kra Tel
Ven'kra Tel is a special Grineer mini-boss unit encountered in Orokin Sabotage missions where Grineer are the dominant enemy, who is one of the two units who hold the Void Key necessary to close the Void Portal. She possesses a blue jet pack identical to that used by Hellions that grants her excellent mobility, and can use her Vulkar and other ranged special abilities to engage Tenno from afar. Ven'kra Tel is always seen with her sister mini-boss, Sprag.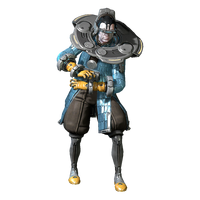 Main article: Alad V
Alad V was the head of Grineer Relations and reported directly to the Board of Directors. In spite of his position, Alad V showed a particular contempt towards the Grineer (whom he refers to as 'dogs') and to a lesser extent, the Tenno. He is the most decorated Corpus boss in terms of his involvements with many Events. He eventually became obsessed with the promise of biological research on the Infested, with the hopes of creating very powerful bio-weaponry, going as far as using Technocyte on his own armor and sacrificing prototypes from his Zanuka Project.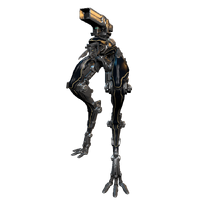 Main article: Ambulas
Ambulas is the boss of the Pluto system, representing a black MOA but with more dangerous attributes. Besides having high health, alloy armor, and a proto shield, it has a high damage machine gun and two abilities that mirror Fire Blast and Pull, making it a dangerous opponent when also surrounded by other Corpus units. It was targeted for assassination by the Lotus to prevent further Ambulas models to be manufactured, although it is unknown if more models exist.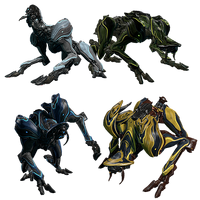 Main article: Hyena Pack
The Hyena Pack are the final bosses of the Neptune system, made up by 4 unique and deadly variants of the Hyena proxy. They work in packs of up to four with each of them possessing a unique set of abilities. Each Hyena possesses a plasma repeater, and they are far more agile than any other enemy in the game, including Zanuka and Zanuka Hunter. Alongside their agility, they can also jump on to and cling to walls, though they cannot wallrun. Lotus has marked them for assassination for obvious reasons, as they are a very dangerous proxy group and destroying the models may slow down further production.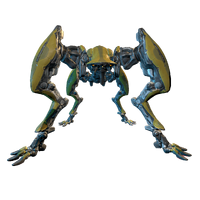 Main article: Jackal
Jackal is the final boss of the Venus system, and represents the first Corpus boss that players encounter. Although a more bulky and old model compared to more recent Corpus robotics, the Jackal possesses invulnerable shields, a giant shockwave ability to knock players down, and one of the most powerful corpus weapons, the Plasma Grenade Cluster. Dissected models of the Jackal can be found in some Grineer tilesets, either showing that the Grineer have interest in utilizing Corpus technology, or that they have simply purchased merchandise.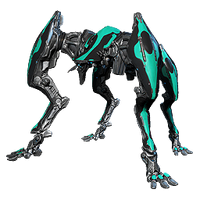 Main article: Lynx
The Lynx is a miniboss that is encountered in certain Orokin Sabotage tiers that feature Corpus enemies, acting as the main miniboss from which the mission's Void Key drops from. It resembles a smaller Jackal with blue armor, and has the ability to deploy Osprey drones and Turrets to assist it in combat.
Main article: Raptor
The Raptor is a Corpus Boss found in the Europa system, and the only flying Corpus boss in the game. It has very high stats and heavy hitting weapons, including launching high damage missiles that seek players, deploying mines and firing explosive laser bolts, making fighting in the open a difficult task. It was marked for assassination for being a high threat risk, as more models of this proxy could result in dangerous repercussions.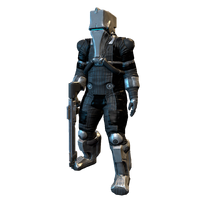 Main article: Sgt. Nef Anyo
Sgt. Nef Anyo is the final boss of Mars system, in charge of the Corpus solar rail systems, and has been using them to obtain Cryopods with dormant Warframes for resale to rogue scientists and splinter groups. When confronted by the player during the mission, he has a very aggressive tone towards the Tenno and warns the player that they are making a fatal mistake by attempting his assassination. He also may demand information regarding Orokin secrets, or like Tyl Regor, make fun of the player's Warframe or teammates.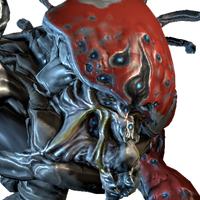 Main article: Phorid
Phorid is an infested boss, found when an infested invasion manages to "Infest" the boss node. After defeating it and finishing the mission, you receive a Nyx Helmet, Chassis, or Systems Blueprint. Upon death, Phorid has a chance of dropping rare Resources of the planet he appears on.
Main article: Lephantis
Lephantis (previously known as J-2000 Golem) is a massive Infested boss introduced in Update 10. It was originally going to replace the now retired J3-Golem boss but was moved to the Orokin Derelict tileset instead. Lephantis requires players to craft a special Derelict Assassination key, which requires five Golem Nav Coordinates; items only obtainable though Derelict missions; missions which require regular Nav Coordinates found in normal missions.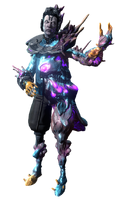 Main article: Mutalist Alad V
Controlled by the Infested and corrupt with power, Mutalist Alad V is the boss of Eris introduced in Update 15.5. To fight him, players need to craft the Mutalist Alad V Assassinate Key with the blueprint awarded from completing the Patient Zero quest.
Assassins
Assassins are boss-like NPC's that hunt players in random locations after doing certain things against their Factions, earning their respective Death Marks in the process. In the Stalker's case, he will target players who have defeated one of the regular enemy bosses in the game as "revenge". The Zanuka Hunter and The Grustrag Three will target the player when they aid the opposing faction in an Invasion mission. They usually drop rare resources and exclusive weapons when defeated.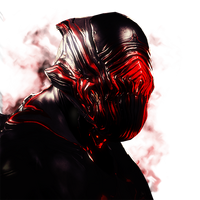 Main article: Stalker
The Stalker is an ominous, vengeful figure that infrequently appears during missions, armed with powerful weapons and abilities to hunt down Tenno that have been marked for assassination.
In order to attract the Stalker, a Tenno must have a "Death Mark" upon them. Death Marks are obtained by killing Bosses.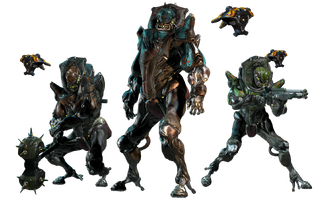 Main article: The Grustrag Three
The Grustrag Three (commonly abbreviated as the G3) is a group of Assassins founded by Councilor Vay Hek, which comes after a Tenno who has completed at least one Invasion mission against the Grineer.
Main article: Zanuka Hunter
Zanuka Hunter, also known as Harvester is a gray-colored Zanuka proxy controlled by Alad V. During missions, it will attack one targeted Tenno until either the Tenno or the Zanuka Hunter dies. It appears rarely, in a manner similar to the Stalker. Triggering a Zanuka Hunter attack requires a player to have a death-mark. A death-mark is acquired by supporting the Grineer enough to earn battle pay for one Invasion (5 Missions).
Retired Bosses
Notes
All bosses and assassins have a rare chance to drop an Orokin Cell upon death. This chance is fully separate from the planet's resource drop rate.

As such, it is possible for General Sargas Ruk and Lieutenant Lech Kril to drop two instances of Orokin Cells, the first instance coming from the planet's rare drop and the second instance coming from the rare chance.
See also