Bronco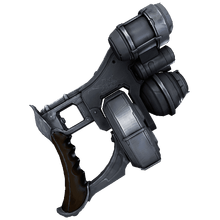 Statistics
| | |
| --- | --- |
| Weapon Type | Shotgun Sidearm |
Utility
Normal Attacks
Miscellaneous
The Bronco functions like a cross between a shotgun and handgun, that comes in a handy package to complement long range primary weapons.
It is efficient against both Corpus and Infested.
This weapon can be sold for 5,000
‍ 5,000; it is also a requisite ingredient for Akbronco (x2).
Characteristics
Edit
This weapon deals primarily

Impact damage.
Advantages:
High damage.
Fast rate of fire.
Extremely effective at close range.
Fast reload speed.
Good ammo efficiency.
No damage dropoff over distance.
Disadvantages:
Very small magazine size.
Ineffective against heavily armored enemies.
Difficult to use beyond medium range due to its large spread cone.
Low critical chance. 
Comparisons:
Compared to the Bronco Prime:

Lower damage (105.0 vs. 140.0).
Higher critical damage (2.0x vs. 1.5x).
Smaller magazine size (2 vs. 4).
Faster fire rate (5.0/sec vs. 4.2/sec).
Faster reload speed (1.0 vs. 2.0).
Lower status chance (14.0% vs 17.5%).
Weapon Loadouts
Edit
Weapon's spread cone can be shrunken by zooming in.
Surprisingly effective at scattering damage over groups of enemies, even at long range due to the fact that Bronco weapons do not have damage falloff.

Using maxed Seeker (Mod) is recommended to upgrade its crowd controlling capability, making it the best scatter-damaging sidearm.
The damage listed is actually the combination of all seven pellets' damage values. The actual damage per pellet is 12 impact, 1.5 puncture, and 1.5 slash
The word Bronco is a term in Spanish Language meaning "rough".

It is also a common term for wild horse in Western culture.
Patch History
Edit
Update 21.0
Damage increased from 15 to 38
Damage fall off added starting from 7m and ending at 14 with a minimum damage of 10
Status Chance increased from 14% to 20%
Conclave: Bronco series are available for use.
Item introduced with game release.
Ad blocker interference detected!
Wikia is a free-to-use site that makes money from advertising. We have a modified experience for viewers using ad blockers

Wikia is not accessible if you've made further modifications. Remove the custom ad blocker rule(s) and the page will load as expected.