Conclave
Alignments
This Syndicate is neutral to other Syndicates.
A warrior only grows if they face the ultimate enemy. Themselves.
Conclave is a neutral Syndicate led by the Conclave Master, Teshin. Teshin resides within the Conclave Hall of each Relay. He is the one responsible for the management of the Conclave PvP System, providing incentives through various rewards that can be earned through Conclave battles.
Game Modes
Edit
Cephalon Capture
Edit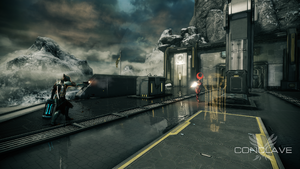 Main article: Cephalon Capture
A simple Capture the Flag style game mode in which two teams of four Tenno (for a total of eight players) must steal the Cephalon from the enemy base and bring it to their own in order to score points, and the match ends when one team has captured the enemy Cephalon a set number of times.
Accessing Missions
Edit
Conclave missions can be accessed using the Conclave console located on the right of the Navigation in the Liset, as well as the Conclave enclave in the Relay. Player's loadouts will be automatically switched to their Conclave loadout upon entering a Conclave mission.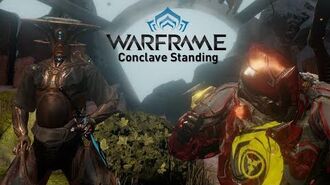 Rank
Title
Sacrifice
Benefits
3
Tempest
Orokin Reactor
‍ 100,000
Access to Augment Conclave Mods. Additional Conclave loadout slot.
2
Whirlwind
Forma
‍ 50,000
Access to Rare Conclave Mods. Additional Conclave loadout slot.
1
Mistral
2 Neurodes
‍ 30,000
Access to Uncommon Conclave Mods. Additional Conclave loadout slot.
0
Initiation
100 Plastids
‍ 10,000
Access to Conclave Sigil
Offerings
Edit
Conclave Score
Edit
Conclave score is a universal benchmark that calculates the effectiveness of an individual piece of equipment and as a total of all equipped gear. Each individual equipment score is affected by the equipment's rank and the conclave scores of the mods installed. In turn, the mods' conclave ratings are based off their ranks, and are listed next to their identifiers (for example, "Rifle C30" or "Melee C8").
The rating of a weapon is static: ranking up and upgrading with Forma or Orokin Catalyst do not impact a weapon's Conclave rating. Only mods can increase the conclave score.
Conclave Score is not limited to the Conclave arsenal and is applied to all weapons, Warframes and Mods. It is also sometimes used to limit entry into Event missions, in order to increase difficulty by preventing players from trivializing encounters.