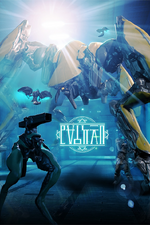 The corpus is a Merchant Cult, built on the foundation of salvaged technology and Robotics.


They scavenge the outer systems, greedy for the Old War salvage. Their most sought after of all - the Tenno and their WARFRAME armor.
Those captured are treated as salvage; meticulously dissected, integrated. The remains are sold to the highest bidder.

–In-game Lore Description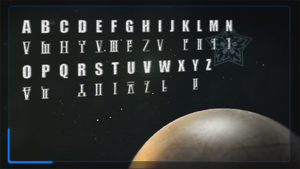 The Corpus (literal translation: Korpus) are a conglomeration of commercial and industrial interests unified by a single trade language and a common goal - the acquisition and trading of ancient Orokin technologies and Warframes. They are the second enemy faction encountered by reanimated Tenno, and theirs is a potent mix of energy weapons and robotic troops. Many Tenno have made the mistake of firing at a Corpus crewmember's head only to have the bullet deflect, and many more have fallen to the close-in charge of a MOA's auto-laser barrage.
More technologically advanced than the Grineer, the Corpus crews and snipers employ many of the same attrition and ambush tactics of the Grineer; however, they supplement these with automated 'security proxies' known as MOAs and Ospreys. MOAs are bipedal turrets carrying either rapidly firing auto-lasers or high-power, low-caliber railguns. Rather than taking cover, which would be impractical given the in-line mounting of their weapons, these screeching killers will simply close the distance, relying on their regenerating shields to soak up damage. Fortunately, their personal defense shielding is relatively fragile, as is their physical frame. Ospreys, on the other hand,
are flying proxies that serve primarily as a support role. They can lay mines, or launch shield-draining leeches. They can even hover over groups of Corpus crew and MOAs, protecting them
all
with a layer of rapidly regenerating shielding that can completely negate the effectiveness of almost any weapon or offensive ability temporarily. The Corpus also have stationary turrets activated by ceiling-mounted cameras, which are the bane of fleet-footed Tenno the system over, as they also activate shield-draining lasers that knock players to the ground.
The basic infantry of the Corpus, Crewmen are light armored units who use basic weaponry. A crewman's head is its weak point, but is also very well armored.
These are robotic bipedal walkers used by the Corpus as a form of support. Essentially, they are walking turrets that will run towards players, firing at them once within range. Their health is low, yet they possess moderate shields. MOAs will not become stunned if hit by a melee attack and rarely take use of cover. MOAs can be spawned by "constructors", which are indestructible and look like large containers. In some cases, constructors can spawn MOAs indefinitely.
Ospreys are flying robotic units used by the Corpus. Relatively fragile, they provide support with buffs and debuffs instead of blunt firepower. The Ospreys' ability to hover makes them difficult to strike with melee attacks.
The Corpus faction employs security measures around their bases that can lock unsuspecting players in a room full of turrets or even block them from leaving rooms with laser barriers that can completely drain shields.
Security Camera


General
Faction
Corpus
Type
Support
Weapon
Laser Barrier
Corpus Turret
Statistics
Base Experience
55
Spawn Level
4
Miscellaneous
Codex Scans
20
Security Cameras are mounted on ceilings. They used to have a distinctive beeping sound, but are now fairly silent and possess a glowing green light; if a camera detects a player, the light will glow red and a short alarm sound will play. Upon detection, cameras will activate any nearby Turrets and Laser Barriers. Players should prioritize cameras as they may activate Laser Barriers and Turrets at the worst of times if left alone. Destroying the cameras will render both Turrets and Laser Barriers null, deactivating them. 
As of Update 7.11, Cameras now have a visible cone of sight, making them easy to spot.
As of Update 10.6, security cameras now scale with the enemy level of that mission, instead of being always level 1. This means on higher missions they will have more health. 
Security Cameras that have not detected the player count as unalerted enemies for credit towards the stealth challenge, even if all other enemies in the mission are on alert.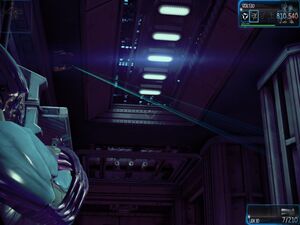 Laser Barriers are found inside the frame of some Corpus doors. They are activated by nearby Security Cameras that detect a hostile target (a Tenno). They are deactivated by either disabling the cameras by shooting them or merely avoiding the camera's gaze.
Trying to pass through the barrier will deal damage to shields, knock the player down, and push them back (unlucky players may be stuck in the lasers, subjecting them to additional shield damage). No health damage can be received from laser barriers.
All Corpus are able to pass through these barriers unharmed. Occasionally they may stand in the way of the beams, blocking them so that players may walk past.
Bypassing the Lasers
Edit
The following skills will allow Warframes to pass through Laser Barriers unharmed.
Blocking the Lasers
Edit
Laser Barriers may be blocked by an enemy or a player using:
Dodging Techniques
Edit
In addition it is possible to bypass lasers altogether by using certain moves just as you reach the beams:
Rolling (Tapping sprint) [Works on some characters]
Sliding (Sprint then Ctrl) [Works on some characters]
Jumping (Space)
Slide Melee (Sprint then Ctrl then E) [This is the most effective tactic as long as melee has a fast attack rate with its slide attack]

With a slow weapon, or possibly a slow frame, you may pass through the barrier, but still be knocked down. Upon standing up again, your frame will perform the slide attack again. (Needs Heavy Testing)
Flying Kick (Sprint then Space then Ctrl) [Only works with sufficient speed]
Glitch Tactic: while under low Frame rate (around 8fps or less) you can walk or run right through the laser barriers. This is caused by the game not registering you hitting the barrier. This can only be achieved with players having problems with frame rate.

Lag from your connection to the host can bypass knockdown but will still deal damage to you, but depending on the lag you may not see the effect on your shields.

Second Glitch Tactic: It is possible to run into the lasers and turn around quickly by pressing "S" on the keyboard, causing the player to (most of the time) be knocked back on the other side of the barrier.
Prior to Update 7.7.3 Laser Barriers could damage health and put a player into a downed state the same as any other enemy.
Sometimes you are able to simply walk straight through the Laser Barriers, even without lag (Bug?)
Turret


General
Faction
Corpus
Type
Stationary Turret
Weapon
Plasma Rifle
Statistics
Base Experience
55
Spawn Level
1
Turrets are mounted on ceilings and will shoot the player upon being triggered by a nearby Security Camera. They deactivate if damaged sufficiently, if the controlling camera is destroyed, or if the camera stops detecting hostiles. If they deactivate before destroyed, they will be completely repaired.
Deactivated turrets can be destroyed occasionally, however on the other hand, occasionally the said turret cannot be destructed. It is unknown which factor decides this. (bug?)
Before Update 10.5.0, the Corpus Turret along with Corpus Security Camera did not level along with the other Corpus units, instead they remained at level 1.
Alad V is a Corpus boss who resides on Jupiter (replacing J3-Golem). He is accompanied by a robotic pet/guardian, Zanuka, which he built from Warframe parts that he gathered.
Upon completion of his assassination mission, player will receive either the Valkyr Chassis, Valkyr Helmet, or Valkyr Systems.
Alad V was formerly the head of Grineer Relations and reported directly to the Board of Directors. In spite of his position, Alad V showed a particular contempt towards the Grineer (whom he refers to as 'dogs') and to a lesser extent, the Tenno. During one set of negotiations, The Twin Queens demanded that Alad reduce the price of some materials after several stockpiles were discovered, threatening to unleash a Fomorian-class 'supership' if he refused. Alad decided to call their bluff, unaware that these Fomorian ships did exist. When he realized his mistake, he turned to the Tenno for assistance. Although The Lotus did not want to play any part in the conflict, the threat of Grineer power expanding convinced her to reconsider Alad's plea. This resulted in Operation Sling-Stone, where the Tenno would sabotage the Fomorians' reactors by corrupting them with Infested material. Eventually the last of these ships fell and the Grineer withdrew, although Alad dispatched scouts to Pluto in response to rumors of surviving ships.
Ultimately, the Queens agreed to Alad's inital contract, but decided to pay more than what he asked for in exchange for his assistance; the Grineer had several unknown settlements that they wanted to hide from the Tenno. Knowing that the Tenno are aware of their methods via their capture missions, Alad decided to send his scouts and navigators to The Void, in the hopes of hiding the information as long as he could. Despite this, The Lotus discovered his covert operations (dubbed Operation Arid Fear) and sent the Tenno to hunt down his scouts. Despite Alad's best efforts, the Tenno recovered the information and were able to find the settlements' location; Phobos.
Later on, Alad would focus his resources on the Zanuka Project after discovering a cache of sleeping Tenno near Sedna. Upon hearing this Sargas Ruk ordered Alad to hand the cache over to the Grineer, on the grounds that they were found in Grineer territory. Alad responded by setting up a defensive force on Mars in order to repel the offensive. Enraged, Ruk demanded that all Corpus territory would be handed over to the Grineer, or else there would be swift consequences. This information was picked up by The Lotus, who was unwilling to sway the Tenno towards either side. Instead she left the Tenno with two options; support the Grineer to rescue the sleeping Tenno, at the cost of the Grineer gaining more control or support the Corpus to drive off the Grineer, sacrificing their fellow Tenno in the process. The ensuing conflict would later be known as The Gradivus Dilemma.
After several skirmishes, the Board of Directors decided to stop bankrolling Alad due to all the money he wasted during the Dilemma, resulting in a Grineer victory. The Board also stopped the funding of the Zanuka Project, forcing Alad to continue his project without their assistance, setting up research facilities on Jupiter. The Tenno discovered that Alad had a captured Warframe he was experimenting on as part of the Project. Meanwhile Alad's former colleague Frohd Bek was tracking him down in response to the massive debts he accrued due to the Dilemma (though Frohd had his own reasons, namely fearing that Alad could gain more power in the Board should the Zanuka Project prove successful). In response, Alad diverted the Infested to Frohd's ships, overwhelming them in the process and slowing down Frohd's progress. Frohd Bek decided to cut a deal with the Tenno; eliminate the Infested from his ships so that the both of them can locate Alad. Despite The Lotus' inital distrust, she ultimately agreed to Frohd's terms, resulting in a manhunt against Alad. Ultimately Alad's location was discovered and although he was able to construct a working Zanuka prototype by the time he was found, the Tenno defeated him and rescued the Warframe under his clutches. Despite this, Alad continues to work on the Project and occasionally sends out Harvesters to search for more "donors".
Appearance and Abilities
Edit
Alad himself appears as a man in a metallic blue robe, with a disc-shaped controller around his neck which powers Zanuka.
He has no offensive capabilities, and will simply attempt to run around the arena and stay away from the Tenno while Zanuka does the dirty work. He does however have a few defensive capabilities to help himself survive.
Electric Shield: Akin to Volt's power, he can summon a white energy shield to block bullets from afar.
Flame Pulse: When close enough to Alad, he will summon an AoE fire burst around himself to knock the Tenno away. It has little to no recharge time, meaning attempts to do close quarters attacks are futile and can always be defended against. The pulse does not seem to be avoidable by jumping.
Blinding Beam: A lightning bolt strikes from his hand and connects to a target Tenno. After a second, the target will be blinded for a few seconds as the entire screen flashes white.
Zanuka appears as a cyan armored robotic canine. It is highly aggressive and agile, capable of doing dodge rolls and jumping around terrain. It will continuously chase the Tenno while launching attacks. Aside from the basic claw strikes, it has several ranged abilities.
Missile strike: Launches several guided missiles, doing moderate damage. Due to their powerful guiding capabilities, the most reliable way to dodge them is still to hide behind cover.
Frost bomb: Launches a gray spheric bomb that explodes in a small AoE, applying Cold and slowing down any Tenno within the explosive radius temporarily.
Main article: Alad V/Quotes
Alad V has many quotes, more so than any other bosses. a full list can be found on the link above.
Unlike with most other bosses, enemies will continuously spawn within the arena throughout the fight. However, the arena tends to start without any enemies waiting within.
Shielded phase
Edit
Zanuka possesses a near invulnerable shield, which can only be disabled after Alad's shields have been destroyed. During this phase, simply keep running away from Zanuka and attempt to damage Alad from a distance, as his Flame Pulse will keep close combatants at bay.
Similar to Jackal, Zanuka's shields are not actually invulnerable, and are simply extremely high and have severe damage reduction. It is possible to brute force your way through it with high-end gear, like the Brakk.
It is also suggested to bring a Mag with Shield Polarize to drain shields out of Alad V and Zanuka. Correctly modded, it will be able to instantly destroy Zanuka or kill Alad, or even both in the process (due to their high shields).
Health phase
Edit
After Alad's shields have been removed, Zanuka's shields will be disabled, allowing both to be damaged. However, Alad will never die until Zanuka is destroyed. In the event that the player continues to chase Alad and take his health down to zero, he will fall over into a Downed state, and Zanuka will rush to his aid and revive him. Upon revival, Alad's shields will be semi-recovered, meaning Zanuka will be invulnerable once more and the shielded phase has to be repeated.
As such, while Zanuka becomes an easy target when attempting to rescue Alad, it may actually be easier to ignore Alad after his shields have been disabled and attack Zanuka until it is destroyed, then finish off Alad at your leisure.
Though Zanuka is agile, most players will still be faster than it by a significant margin, making outrunning it the best strategy. As the Bombs Zanuka deploys are purely for support, the only real threat it possesses are guided missiles, which can be tanked with moderate shields. Simply kite until it goes down or disable it with control skills like Vauban's Bastille.
After defeating Alad V, Lotus responds by saying the J3-Golem defeat quote rather than the Alad V defeat quote. This could be caused by the fact that before Alad V was in the game the J3-Golem occupied his place in Jupiter as its boss.
It is said in Livestream 16 that Alad V hates Lotus (It is not surprising as all factions are hostile towards the Tenno and Lotus).
He is most likely an important Corpus character, if not their leader, then one of their most important commanders. Lore entries about the Fomorian and Arid Fear operations are signed by him, reason to believe he was responsible for these operations, either being the one ordering them or the supervising commander. In the lore entries written by his name is "Grineer relations" which could imply that is his role within the Corpus ranks. That is of course before Frohd Behk used the Tenno to overthrow him and take his position within the Corpus board.
Favors diplomacy and bribing over fighting, using his skills in linguistics to gain profits and defeat opponents, and uses his robotic pet as a primary means of fighting when the need arises (from Livestream 14).

His diplomacy skills seem to be sorely lacking, as evidenced from most interactions with even the Tenno that sided with Corpus in the Gradivus Dilemma event. Boasting about what he will do to captured Tenno cryopods, saying Tenno have no eyes for unknown reasons, and also talking about how much it pains him to give rewards to Tenno that supported his cause.

As of The Gradivus Dilemma, he started working on a weapon project of some kind, which he mysteriously called the Zanuka Project. It turns out that the project is his robotic pet, after its name was revealed.
Alad V believes the Tenno do not have eyes. This could be a reason to the Zanuka Project, as Alad V has minimal knowledge about the nature of the Tenno and wishes to do research, not even knowing that the Tenno are inside their Warframes and not actually the Warframe itself.

This might also hint at the relationship between the Tenno and their Warframes.
This might also actually be an insult, having "no eyes" may mean not "seeing" the scheme of things. This could relate to the Tenno being the "Betrayers" for not embracing Orokin technology, as the Corpus do. 

Despite the animosity between the Corpus and the Tenno, Alad V still treats them like potential business partners, as evidenced by his dialogue in the Gradivus Dilemma.
The fan base considers his slogan to be "Profit numbs the feeling."
He has created a forum account on the warframe forums to argue with General Sargas Ruk: 

The letters on the shoulder plates translate to: "ALADV GREG"

AladV
A leaked trailer was released in the forums as the showcase for the PS4. Though the original trailer  was released a short time after.
In the PS4 trailer, the letters on Alad V's neck piece translate to "ALADV GREG"
When downed will refer to Zanuka as a female, this might be in a literal sense or simply calling it "her" shows his affection toward it, like any other pet. 
The following depicted abilities on the "Profit" trailer are known to be false and do not apply completely on Zanuka's actual attacks: Antimatter Drop on its first attack, non-stasis Rhino Stomp on its second and Dispel on its last ability use before its destruction.
It seems that Alad V was to be replaced by Darvo as the new chairman of the Corpus Board, the main aristocratic leadership on Corpus politics. His ranking was known on the Profit trailer as he makes a transaction among his fellow Corpus leadership through the Zanuka Project, although, this has changed as one of the chairmen from the board called Alad V an impeachment, specifically Frohd Bek, who is the actual father of Darvo, which resulted in The Hunt For Alad V. Exiled, his seat from the board is thus left empty.
So far the only human Corpus bosses are Alad V and Sgt. Nef Anyo

Even then most of Alad's fight is fought against Zanuka
Zanuka has been known to disappear while being kited through the ducts leading up to the arena. When this occurs, Alad V is vulnerable to being killed.
Sometimes when downed, Zanuka will revive him, but he gets stuck in a shield and cannot be damaged except using slam attack of melee weapons.
Sometimes when Alad V is downed, Zanuka will revive him, but he will get stuck inside of walls and/or the floor and take no damage regardless of attacks.
If Zanuka is pushed out of the map, defeating Alad V will not be possible. It seems that Zanuka is still alive beneath the map if you push her off (tested with Soul Punch and Kestrel). Zanuka eventually appears near Alad V and revives him.
There's a chance that the blind effect employed by Alad V can get stuck on a character, this bug is fixed via revival.
Zanuka can be locked down for an infinite duration (or until it dies) with Trinity's Well Of Life. Energy Vampire can then be used to cause damage to Zanuka while also replenishing the energy of Warframes close by.
Ambulas is the boss of the Pluto system. It can be found on the mission Hades. After defeating it and finishing the mission, you will receive Excalibur Chassis, Excalibur Helmet, or Excalibur Systems blueprint. Upon death, Ambulas has a chance of dropping Morphics.
Appearance
Edit
Ambulas is a small black MOA unit. While unremarkable in appearance, it is extremely fast and has a variety of abilities.
Offensively, it has a machine gun that deals high damage, about 35 per shot. While it usually fires in single shots, it can also fire a continuous burst, particularly when players are knocked down. It also has a stomp attack, though unlike other enemies, Ambulas' stomp attack does not result in a knockdown shockwave, but a Ring of Fire that deals insane amounts of damage to any player within the area of effect, quite capable of ripping down 700+ shields and health in seconds. In close quarters, it can use a Kick that will knock players down. In addition to all this, it has an ability similar to Mag's Pull, which it will use often and chain with Ring of Fire or Kick.
Defensively, it has moderate shields with a moderate recharge rate, though its recharge delay seems to vary at times. It has a decently large health pool as well, though not enough to be a bullet sponge.
Ambulas, like many other bosses,has unique taunts. Here is a list of them:
"Incursion Probability: Negligent. Tenno Mortality Probability: Inevitable."
"Offensive System Conclusion: Enemy Combustion."
Abilities
Edit
Ambulas slams the ground to create a ring of fire that is 3 meters radius wide and 1 meter thick, high fire damage and a knockdown is dealt for those caught in it.

Damage scales with level.
The Knockdown and Fire phase are two separate damage, if targets are close enough, they will be damaged with both.

This ability will usually be used immediately after using Pull. This combo creates a sure-go for pulled enemies to be caught in fire.
Relatively small radius for fire damage.
This is the only Corpus' stomp-based ability which does not knockdown.
As with all other bosses, kill all nearby mobs before engaging Ambulas. This being Pluto, the last thing you want is several high damage machine guns blasting you while being chased by the boss.
Due to its Ring of Fire and Kick, both being close quarters abilities, you would do well to stay away from Ambulas and kite at a distance. However, what makes Ambulas difficult is its extremely annoying Pull ability, which it WILL spam every time it gets the chance, and will most likely follow up with an immediate Ring of Fire or Kick. The Pull ability is unavoidable, and the only way to keep it from triggering is to stay out of Ambulas' line of sight, which doesn't work very well since you can't shoot it by doing so.
The Ring of Fire attack activates on its own timer, which starts out synchronized with the Pull's cooldown. It is possible to un-sync this timer by staying out of Ambulas' line of sight temporarily, so that it will automatically use Ring of Fire without using the Pull, thus un-syncing their cooldown timers. This at least reduces the chance of Ambulas being able to follow-up a Pull with an immediate Ring of Fire.
Keep a good stock of energy and use it on escape-related skills for when you get Pulled. For example, Excalibur's Slash Dash, Rhino's Iron Skin and Trinity's Link are good abilities to help you escape/survive a Pull and Ring of Fire combo.
As a Corpus unit, it is weak to electrical damage. Also, due to its devastating close range abilities, shotguns are not advised for this fight.
Jumping on a double crates can potentially disrupt Ambulas' targeting, making it a sitting duck. It is also possible to get it stuck on stairs, though in most such cases it'll just use a Pull to drag you to it.
It seems that Ambulas is the only boss-level enemy who is fully vulnerable to crowd-control abilities. (possible bug?)
Ambulas was introduced Update 6, replacing the stock photo and name of Arn Etina in the process (as Arn Etina never had a physical model ingame). 
Ambulas is currently the highest leveled boss in the game, barring any boss used in assassination alerts.
Ambulas means "you walk" in Latin, fitting the boss's depiction as an upgraded MOA Walker.
According to Lotus, the destruction of this Ambulas prototype has halted further production of this series of proxies, though it is unknown whether other Ambulas model proxies have already been built.
The Harvester is a gray-colored Zanuka proxy controlled by Alad V. During missions, it will attack one targeted Tenno until either the Tenno or the Harvester dies. It appears rarely, in a manner similar to the Stalker.
Triggering a Harvester attack requires a player to have a death-mark. A death-mark is acquired by supporting the Grineer in approximately five Invasion missions. Players who have acquired a death-mark will receive an inbox message from Alad V. The text of the message reads either:
"Thank you for volunteering for the Zanuka Project, you will make a fine addition to my collection."
"Thank you for your continued interest in the Zanuka Project, A member of our staff will assist you shortly"
The Harvester only spawns in Corpus missions (supporting the Grineer during invasions against Corpus is considered a Corpus mission, and any mission where corpus invades as a faction war). The Harvester spawn chance rises additively with each player in the party with a death-mark.
The Harvester's spawning is announced by flickering lights, much like the Stalker's appearance. Also, your screen will become greyed and your Warframe will flicker with light.
The Harvester has most of its speech represented by Alad V. Here is the list of his phrases:
Deploying
Edit
During Fight
Edit
"Tenno? Can you hear me? You've been a naughty little betrayer, haven't you? Did you really think your support for the Grineer would go unnoticed?
"This is really for your own good, Tenno. Help me, help you... help me! (Laughs)"
"That is just the sort of behavior I just can't let go uncorrected. Otherwise, you'll never learn.
Zanuka Defeated
Edit
"Zanuka? NO! What have you monsters done to my beautiful creature? I won't forget this!"
Abilities
Edit
Harvester's main weapon is a plasma gun, similar to a MOA's. Its fire rate is much higher than a MOA, however, and its projectiles travel very accurately and quickly. The Harvester is also capable of deploying a Frost Bomb.
The Harvester has a huge amount of shields and health. It is immune to some crowd control abilities like Mag's Pull. However, Excalibur's Radial Blind, Frost's Snow Globe, Vauban's Bastille, and Rhino's Rhino Stomp are confirmed to affect the Harvester. Nova's Molecular Prime ability has also been known to greatly slow Harvester down.
Should a Tenno attempt to run during combat, the Harvester will either teleport to them or teleport the Tenno back into the same area. Alternatively, the Harvester will catch up with them as it is very agile and can traverse through obstacles as well as a Tenno, capable of parkour feats.[1]
If the Harvester managed to down its target, it will pin the target down and capture it, abruptly ending the mission. The captured targets will then immediately be transferred to the Escape misison.
Escape Mission
Edit
Main article: Escape
When the player is defeated and captured by the Harvester, he/she will be automatically transferred to a hidden mission which requires the player to locate and collect their confiscated weapons and escape from the Zanuka Project facility in the Corpus Gas City in Jupiter. This mission has been implemented since Update 11.7.3. If the mission is failed, the player will have to replay the mission until it is successfully completed. See main Escape article for more details.
As of Update 11.5.5, the Harvester has a chance to drop the components of the Detron hand cannon.

A poem left by the Hotfix notes states: "…Perhaps a Detron can be secured if a Harvester is Procured? But beware, if it's the Detron you seek, the New Harvester is not for the weak! No one is safe." Detron Screenshot

The Harvester is also considered hostile by Corpus proxies and units, suggesting that Alad V, the Harvester's summoner, is already a Corpus outcast.
Like the Stalker, Harvester has its own soundtrack.
No codex entry has been included yet for Harvester. Scanning it currently counts to scanning the Zanuka.
As of a recent update, the Harvester is guaranteed to drop a Detron component, and has a doubled spawn chance.
It is possible for both the blueprint and one component to drop from a single encounter
Blueprint has the form of a purple orb
Component has the form of a module
The Harvester has a 3.5% of spawning for marked players on Corpus missions within the first four minutes. Taking four marked players effectively increases your odds of having him spawn and like the Stalker, one player having him spawn does not remove the mark from the other three players in the mission. Running additional invasion missions for the Grineer is also a good way to find the Harvester.(this needs to be confirmed as it seems that any mission can spawn him)
To gain the mark, complete a set of invasion missions resulting in battle pay. You should get mail from Alad V thanking you for volunteering for the Zanuka project. You may still have the mark even if you do not get the mail.
Despite being immune to crowd control moves (or, at least, some of them), the Harvester is still vulnerable to knockdown, allowing a player weilding a melee weapon with a knockdown AoE slam effect of moderate size (e.g. the Obex) to knock down the harvester, shoot it for a while, then knock it down again (with the only problem being reloading). This allows for an easy-to-get Detron blueprint, with minimal damage dealt to the player (a real plus for players who: A. do not have very high quality weapons, B. are leveling a new weapon/warframe, or C. are going solo on a mission).
When first introduced, it was Zanuka itself (with partner-dependent shields and Warframe abilities). Alad V's dialogue still refers to the Harvester as such.
The Harvester is the only assassin that drops only weapon components (As the Stalker and the Grustrag Three can also drop resources or mods upon their defeat).
References
Edit
The Raptor is a Corpus Boss found in the Europa system in the mission Naamah. After defeating it and finishing the mission, players will receive either the Nova Chassis, Nova Helmet or Nova Systems blueprint. Upon death, Raptor has a chance of dropping Morphics or Control Modules.
Appearance
Edit
The Raptor is a giant Osprey drone with dark blue armor and red trims. It flies around the arena, raining death on its foes.
A list of the Raptor's taunts:
"Analyzing Threat Weaknesses: Numerous"
"Analyzing Threat Vitality: Target Death Imminent:"
"Analyzing Threat Intelligence: Under-developed"
"Analyzing Threat Tactics: Unsurprising"
"Analyzing Threat Weaponry: Unimpressive"
"Synthesizing Attack Patterns: Tactics generated"
"Cycling power. Offensive systems engaged."
"Analyzing Previous Encounters: (warframe) weaknesses identified"
The Raptor was added in Update 9. It is the first and currently the only flying boss in the game.
The fact that it flies around the map also meant there was a slight chance that drops (including warframe components at the time) would land in areas inaccessible by the player. With the change in how warframe components are dropped, this is no longer an issue.
As of Update 12, the Raptor is one of three bosses who do not have an opening cinematic, the other two being Sgt. Nef Anyo and Kela De Thaym.
The Raptor's main weapon is an explosive laser bolt with medium fire rate, which deal 100-200 damage per shot. It will also occasionally drop a bunch of giant Energy Mines that explode for high damage (about 100) if it comes in contact with a player. Note that unlike the Mine Osprey, these mines never expire.
While it has a moderately strong personal shield, it does not regenerate automatically. Instead, at approximately every 33% of its health, the Raptor will fold up its wings, regenerate its shields and then release a barrage of powerful homing missiles upon re-opening.
While folded up, the Raptor can only be damaged by hitting its "face" or "tail", the only section not covered with its shell. Everywhere else is immune to damage during this time.
Abilities
Edit
Raptor deploys a yellow energy mine, which deals medium Blast, occasionally knocking down its' victim.
Strategies
Edit
In General
Edit
As with all boss fights, clear the arena of all regular enemies before engaging the Raptor in combat.
Due to its fast and damaging aerial assaults, fighting in the open is not an option. The best method of combating it is by hiding inside the central building in the arena, which will protect you from the bolts and missile barrages. Try to keep an eye on it using the waypoint and from the windows, and pop out for a few potshots whenever you can before returning to cover. As such, high-damage and accurate weapons such as the Lex, Vasto, Snipetron Vandal, Vectis, Lanka and Acrid are very suitable for this fight.
Weapons with Punch Through can damage Raptor through the glass ceiling of the central building freely while protected in cover. Players looking to exploit this feature must be mindful of enemies running in to gun them down as there is little cover inside the building itself.
Utilizing Warframe's Abilities
Edit
Frost's Snow Globe will block any of its attacks as long as it stays outside the Globe, allowing a fight in the open. A good place to set up Snow Globe is on the top of the central building, as the boss rarely flies out of sight. Using a small Snow Globe (i.e. unmodded) is recommended to reduce the risk of the boss coming in.
Mag's Bullet Attractor will redirect Raptor's bolt back to itself, allowing you to fight in the open safely. Note that it will not redirect its missile barrage which releases at every 1/3 increment of its health. This ability is also a great complementary for shotgun users as the sphere will make the target much larger.
Loki's Switch Teleport can trap the Raptor within the central building, stopping it from hovering. Apart from making it an easier target -- Filling the room with Vauban's Teslas, or using Loki/Ash's Invisibility/Smoke Screen to shotgun it up close is one of the devastating combos available.(As of Hotfix 11.7.3 this is no longer true.)
Banshee's Sonar allows players to deal massive damage to Raptor while its wings are open. Note that this forces Raptor's health down fast enough that he will use his homing rockets almost immediately.
Vauban's Tesla grenades are extremely effective if thrown on top of a box or another high location in the arena, each will strike repeatedly with electric damage wearing the boss down quickly. A Stretch mod can help increase the range of the grenades.
Nyx's Chaos can distract Raptor and draw away fire to effected enemies, however the raptor will quickly decimate these enemies and will still target the closest enemy or player to it. 
Rhino's Rhino Stomp can be used to freeze Raptor's position for the duration of the slow effect. This is useful if a non-hitscan weapon like Supra is used, as it is difficult to use effectively when Raptor is flying around. As with other boss battles with resisting phases, the boss will still be invincible even before it clapped its wings. Due to the innefficient energy cost, one should use this method as a last resort.
Volt's Electric Shield, like Frost's Snow Globe, will block all attacks that pass through. Electrical damage is also applied to your weapon, and will help the fight go by faster. However, since the shield isn't sufficiently large, you may need to cast it multiple times when in out in the open. One way to use this is to stand directly outside of the door of the shelter in the middle of the arena, have Raptor directly above you, use Electric Shield and hammer away.
Ember's skill World On Fire constantly hits him with 400 damage per tic on full power. With all the proper mods installed (Intensify, Continuity and Constitution) Raptor should go down in 3 casts.
Trinity's Energy Vampire skill to get energy fast and to fuel a Mag's Bullet Attractor and Ember's World on Fire. She can also use Link to tank it (and reflect damage) while she and her team shoot it down. Try equipping Power Range mods if you find Link's range lacking as Raptor can easily move out of Link range, killing you instantly with his missiles. Trinity can also use Blessing to simply make the entire team invincible, negating the need for any tactic whatsoever. 
Nekros can use Shadows Of The Dead to create a small wave of enemies to distract the Raptor, although these units will usually be destroyed rather quickly.
Unlike the Grineer, the Corpus is dominantly capable of speaking English. This was unknown before as the Corpus Crewmen are only heard through their garbled voices, until Capture missions were updated. As Corpus targets can speak thoroughly in English without their helmets it might be implied that such helmets prevent voices to be heard externally.

As of Hotfix 12.4 , the Corpus now have their own language, possibly implying that English is their second language. 

After Hotfix 11.5.5 and Livestream 20, the Corpus's territory has been greatly reduced due to the mass farming of Detron components which was only dropped by the Harvester which could only be done by completing Invasion missions supporting the Grineer. 
The official website states that the Corpus are "rarely seen by others and are better known for the robot proxies that serve for them." Despite this, there are often more Crewmen seen in combat than combat proxies.

This probably implies that when the Corpus deal with trades with other factions, their robotic proxies are usually doing the dealing rather than the Corpus themselves. It is only when fighting them that they will fight along side their machines.