"Market forces dictate that you need to evolve or die."

This item is no longer available for purchase.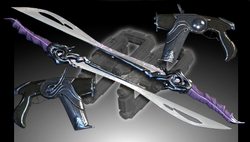 Includes
Dual Ether costs
‍ 175, Afuris
‍ 225, and the Affinity Booster
‍ 40 for a total of 440 Platinum. You save 145 Platinum buying this pack.
Patch History
Edit
"Ah, have you come to make a donation to my newest 'enterprise'...?"

Patch history is needed. Click here for instructions.