Akvasto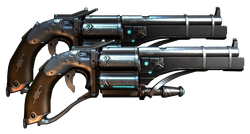 Statistics
| | |
| --- | --- |
| Weapon Type | Dual Revolvers |
Utility
| | |
| --- | --- |
| Projectile Speed | Hit-Scan |
| | |
| --- | --- |
| Firing Rate | 10.0 rounds/sec |
| | |
| --- | --- |
| Magazine Size | 12 rounds/mag |
Normal Attacks
Miscellaneous
Characteristics
This weapon deals mostly Slash damage.
Advantages
High fire rate.
High crit chance.
High Physical damage.
Good accuracy for a dual weapon.
Lower recoil than single Vasto.
Disadvantages
Reduced accuracy (Compared with single Vasto).
Low magazine size.
Requires ten rare resources in total in order to build (eight Neurodes, plus two Orokin Cells) and a considerable amount of credits.
No polarity slot, unlike the single Vasto version.
Less Impact and Puncture damage, reduced effectiveness against shields or armor.
Acquisition
The Akvasto can be purchased for 
‍220. Its blueprint can be purchased for 
‍50,000.
The total credit cost of crafting the Akvasto, including the blueprint and crafting costs of its two constituent Vastos, is 
‍190,000.
Manufacturing Requirements

| Resource | Quantity |
| --- | --- |
| Vasto | 2 |
| Orokin Cell | 2 |
| Credits | 20,000 |
| Build Time | 12 hours |
| Rush Build | ‍25 |
Bugs
Akvasto do not play a reload sound when carrying a Datamass.
Weapon Loadouts
Main article: Category:Akvasto Build
See the user build section for builds using this weapon.
Media
See also
Vasto, the single counterpart of Akvasto.