Akvasto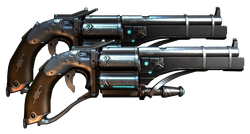 Statistics
| | |
| --- | --- |
| Weapon Type | Dual Revolvers |
Utility
| | |
| --- | --- |
| Projectile Speed | Hit-Scan |
| | |
| --- | --- |
| Firing Rate | 10.0 rounds/sec |
| | |
| --- | --- |
| Magazine Size | 12 rounds/mag |
Normal Attacks
Miscellaneous
Vasto revolvers equipped in each hand.
The total credit cost of crafting the Akvasto, including the blueprint and crafting costs of its two constituent Vastos, is

‍190,000.
Characteristics
This weapon deals mostly Slash damage.
Advantages
High fire rate.
High crit chance.
High Physical damage.
Good accuracy for a dual weapon.
Lower recoil than single Vasto.
Disadvantages
Reduced accuracy (Compared with single Vasto).
Low magazine size.
Low Impact and Puncture damage, reduced effectiveness against shields or armor.
Bugs
Akvasto do not play a reload sound when carrying a Datamass.
Weapon Loadouts
Main article: Category:Akvasto Build
See the user build section for builds using this weapon.
Tips
The reduced accuracy of the Akvasto is a byproduct of its faster firing rate. When pinpoint accuracy is required at a distance, consider pausing between shots to steady your weapon and allow for more consistent aiming.
Media
See also
Vasto, the single counterpart of Akvasto.