Dual Zoren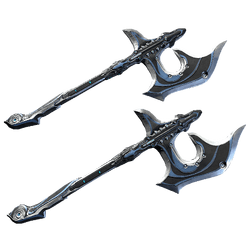 Statistics
Normal Attacks
Charge Attacks
Jump Attacks
Slam Attacks
Slide Attacks
Miscellaneous
Short axes held in each hand. High attack speed and can hit multiple targets. Delivers a high percentage of critical strikes.

–In-Game Description
The Dual Zoren is a pair of short, stylized axes wielded in each hand. It looks like a Scindo without one of the blades, shorter, and in both hands.
This weapon can be sold for
5,000.
Characteristics
Advantages:
One polarity.
High innate critical rate and critical damage. (x3 on normal attack; x1.5 on charge attack).
Deals 3x damage to non-Ancient Infested.
Can hit multiple targets.
High rate of fire, which allows for consistent stun-locking.
Very fast charge animation.
Highest rate of fire of any melee weapon.
Charged attacks can hit Infested Crawlers.
Can be used as a mobility tool due to its spin attack, which is capable of launching the player a high distance. This effect is improved by installing a Fury mod.
Disadvantages:
Low base melee and charge damage.
Charge attack has low critical rate.
Small jump attack AoE.
Very short range.
Acquisition
Upon reaching mastery rank 2, the Dual Zoren can be purchased for
175 and the blueprint for
15,000. Since Update 8 you can gain the blueprint as a Login Reward.
Weapon Loadouts
Main article: Category:Dual Zoren Build
See the user build section for builds using this weapon.
Notes
This weapon was introduced on January 30, 2013.
Dual Zorens are included in the Stay Frosty Pack.
Using max Reflex Coil you can unload 2 charge attacks around 1 second.
Attacks at twice speed of any sword, normal and charge attack alike.
Can be used to almost fly across great distances using the airborne spin attack. This effect can be increased with the Fury mod and greatly combined with Nightmare Mode's low gravity.
This effect is further increased with Volt's speed buff, as not only does it increase movement speed, but attack speed as well.
This weapon pairs very well with the Berserker mod, as its high critical chance allows you to constantly proc the mod's increased attack speed, allowing for 3.8 attacks per second (with a maxed Fury mod and Berserker mod)
Skins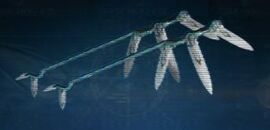 The Dual Zoren skin Dagger Axe can be bought for
75. The blueprint can be earned as a reward from Alert missions.
The Dagger Axe skin is purely aesthetic/cosmetic.
On Twitter Alert notifications, this item is called "Dual Daggers".
Media