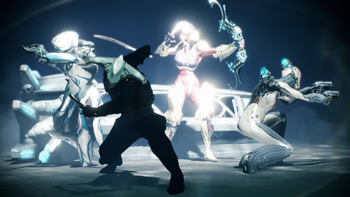 Defense is a game mode in which the players must defend the assigned primary objective or objectives from being destroyed by attacking waves of enemies. The wave will be considered cleared when all the enemies in the wave have been killed.
Every 5 waves players will receive an option to either leave the mission and receive a displayed reward or to continue against progressively harder enemies for an additional 5 waves. The mission is considered completed when the team accepts the offer to claim a reward and exit, and fails if the objective is destroyed or the entire team dies.
Mission Description
There are a total of 31 Defense missions for twelve tile sets available. Six of them are mostly specific to the Grineer:
Six are mostly specific to the Corpus:
Two are specific to the Infested:
Orokin Derelict (K: Featuring walkways and man entrances towards a cryopod on at the center of a stand)
Infested Ship (L: inside a badly damaged Corpus Ship overrun by the infested with narrow paths towards a large room)
The last one is specific to the Orokin
Orokin Void (M, featuring a large room with laser defenses that will instantly kill anybody, Tenno included. 4 distinct paths converge down towards the cryopod.)
When an Infestation outbreak is occurring on a defense mission, the infested use the original tile set.
The maps A, B, E, G and N have the objective in the center (enemies come from every direction), while the maps C, F, H, and I are not so open to approach, making them often more easy to defend (the Reactor is near the edge of the map, where the enemies can't spawn). Map A has recently been updated with a moving objective, where the elevator platform can randomly raise or lower the objective to a different position every wave.
Map D has 3 different locations where a Cryopod can randomly spawn: one is in the lower area of the map, one is in the upper area of the map, and one is up on the raised platform above the upper area.
The lower area has 3 avenues of approach (the vast majority of enemies only come from 1 direction - this is the easiest location to defend on this map).
The upper area has 4 avenues of approach (enemies are more spread out among the 4 - this is generally the hardest location to defend).
The raised platform only has 2 avenues of approach and MOAs can jump up the side of the platform as well (the majority of enemies only come from 1 direction - this is the second easiest location to defend).
On map D, once the game begins, the Cryopod remains in the same location for the duration of the mission; there is no way to select the spawn point of the Cryopod (but you can exit the mission and restart it to have it randomly select a new location). Note: If the Cryopod spawns in the upper area and you run underneath it (in the caves below, usually while collecting loot before the mission begins), it will trigger the start of the mission. (This is most likely a bug.)
On map I the cryopod is sitting on a tram that randomly moves along a rail between 2 locations.
The tram usually stays in one location for multiple waves, with a chance of moving at the end of a wave. Tenno can also ride the tram while it's moving.
The cryopod will always spawn in the same location.
Councilor Vay Hek's Prosecutors begin to spawn on wave 5 and every wave thereafter.
Map O has 4 cryopods located on 4 separate corners of the map. Each wave one of the four cryopods is randomly selected to become vulnerable to attack, indicated by a blue aura surrounding it, and will become the current enemy target. Players must thus move to each vulnerable Cryopod as they are marked every wave in order to defend them.
Currently there are several planet-exclusive defense maps:
Locations
| Planet | Mission Name | Faction | Level | Map | Tier |
| --- | --- | --- | --- | --- | --- |
| Mercury | Lares | Grineer | 1 - 6 | B | 1, 2, 3* |
| Venus | Kiliken | Corpus | 8 - 13 | D/E/F | 1, 2, 3* |
| Venus | Venera | Corpus | 8 - 13 | C | 1, 2, 3* |
| Earth | Lith | Grineer | 1 - 6 | B | 1, 2, 3* |
| Earth | Stöfler | Grineer | 25 - 30 | B | 1, 2, 3* |
| Jupiter | Io | Corpus | 11 - 16 | H | 1, 2, 3* |
| Mars | Olympus | Grineer | 6 - 11 | D/E/F | 1, 2, 3* |
| Saturn | Helene | Grineer | 11 - 13 | B | 1, 2, 3* |
| Sedna | Camenae | Grineer | 16 - 21 | B | 1, 2, 3* |
| Sedna | Hydron | Grineer | 20 - 25 | A | 1, 2, 3* |
| Europa | Eligor | Corpus | 21 - 26 | D/E | 2, 2, 3* |
| Europa | Paimon | Corpus | 23 - 28 | D/E/F | 2, 2, 3* |
| Phobos | Drunlo | Grineer | 16 - 21 | G | 2, 2, 3* |
| Phobos | Kepler | Grineer | 18 - 23 | G | 2, 2, 3* |
| Uranus | Bianca | Grineer | 23 - 28 | B | 2, 2, 3* |
| Uranus | Miranda | Grineer | 21 - 26 | A | 2, 2, 3* |
| Eris | Ixodes | Infestation | 28 - 33 | B | 2, 2, 3* |
| Eris | Kala-azar | Infestation | 28 - 33 | C | 2, 2, 3* |
| Neptune | Proteus | Corpus | 26 - 31 | D/E/F | 2, 2, 3* |
| Ceres | Casta | Grineer | 35 - 40 | I | 3 |
| Ceres | Varro | Grineer | 31 - 36 | I | 2, 2, 3* |
| Pluto | Narcissus | Corpus | 31 - 36 | C | 3 |
| Pluto | Outer Terminus | Corpus | 31 - 36 | D/E/F | 3 |
[*] This shows the tier of waves 5, 10, and 15
The "tier" of a set of 5 waves depends on the level of the enemies within those waves. The tier will change as enemy levels increase. There are a total of three tiers. The tier determines the reward pool players have access to at each 5th wave checkpoint.
Extraction
At the end of each round, the decision screen indicates what each individual player intends to do, with undecided players continuing to battle. It is not a vote and extraction occurs for individual players, not the group; these players will appear to disconnect. It is normally advised to decide on a leaving wave before entering the mission or alternatively shortly after it starts. If not, then everyone should leave at the same time as soon as one of the party members decides to extract.
Significant lag may prevent this option from appearing entirely for clients if the latency is from the host of the match, and the players will be forced to stay and have a host migrate. Keep this in mind if you join a match and notice an unusually high amount of latency.
Composition
Waves 1-4 consist of MOAs, Crewmen, Prod Crewmen, and Oxium Ospreys.
Waves 5-9 consist of Shockwave MOAs, Shield Ospreys, Elite Crewmen, Detron Crewmen, Sniper Crewmen, Techs Sapping Ospreys, and Leech Ospreys in addition to previous waves.
Waves 10+ consist of Railgun MOAs, Fusion MOAs, Mine Ospreys, Nullifier Crewmen, Anti MOAs, and Scavenger Drones in addition to previous waves.
Waves 1-4 consist of Volatile Runners, Runners, Leapers, Crawlers, Nauseous Crawlers, Toxic Crawlers, Electric Crawlers, Lobber Crawlers and Chargers, along with a random mix of Ancient Healers or Ancient Disrupters.
Waves 5-9 consist of Ancient Disruptors, Ancient Healers, Tar-Mutalist MOAs, Swarm-Mutalist MOAs and Mutalist Ospreys in addition to previous waves.
Waves 10+ consist of Toxic Ancients, Brood Mothers, and Boilers in addition to previous waves.

The only Infested non-boss enemies that don't appear in survival are Mutalist Ospreys.
Rewards
| | |
| --- | --- |
| | Tables are updated with the last datamined drop tables prior to 10.3.0, which encrypts drop tables and made it impossible to datamine it. Rewards may be outdated. If you want to contribute to improve them post your statistics here |
Rewards from Defense missions are offered every 5 waves during the extraction prompt. If a player chooses to extract, they receive the reward for that particular wave along with rewards offered from previous extraction prompts on that mission.
The percentages display the chances of a particular item being received as a reward during each extraction prompt.
Dark Sector Defense
Defense missions that take place in Dark Sectors can only be reached by Solar Rails and always involve the Infested. These Defense missions have a higher level range (and thus, higher difficulty) than the planet they're found on, but give out larger quantities of experience, including the experience bonuses inherent in Dark Sectors. There are currently 13 Dark Sector Defense Missions, one each for every planet except Mercury.
Wave Defense
Wave Defense functions similar to the standard endless defense type, except that Tenno must protect the Power Core, Cryopod, or Artifact for a predetermined number of waves. There are no mission rewards until all waves are completed. This is used in Defense Alerts (10-15 waves), and Nightmare Mode Defense missions. This mission type was first introduced in the Artifact Defense Event.
Notes
Defense missions are considered some of the best missions for mod farming due to the unlimited amount of enemies and the ability to easily leave after each 5 rounds.
As of

Update 9.0

, enemies will now swarm the pod or reactor much more aggressively, with more enemies running up to the defense objective and attempting to destroy it. Also due to update 9, enemies will increase in level with each wave faster then before.
The first wave will start only when one of the players have reached the activation "ring" around the objective. Players are free to loot all the resources around the map before activating the first wave by stepping into the ring.
As of

Update 9.7

, enemies can jump onto boxes and ledges, including many "safe zones" (such as the platform on the bottom right of the picture) making it even harder to avoid damage. 
Update 9.7 also made it possible for enemies to walk onto and across the large railbox (top left of the picture) providing another (and quicker) way for enemies to reach the pod, and that pathway is more difficult to defend.
As of

Update 12.0

, the being inside any cryopods has changed from a human to a humanoid wearing a gold and black suit, similar to the color scheme of primes.
Bugs
There is a bug where you will click to exit the defense mission, but you will stay in the mission without a HUD, and sometimes not being able to move or chat at all. Dying will not bring back the HUD and you will not be able to revive. The only way to leave the mission is to force close the game using Alt + F4 or through a process manager.
Having the chat window open and active while in the process of choosing between 'Extract' or 'Battle' will result in the typing player ending the mission as if they chose 'Extract', even if they chose 'Battle' explicitly.
A test mod card labeled "Ancient Retribution" may show up as a reward, although it cannot actually be rewarded and claiming the card may crash the game or cause instabilities afterwards. The card is used by Digital Extremes for testing and does not actually represent a real mod now or in the future.[1]

Infested Leapers have a tendency to leap into the Warframe Cryopod which the player/s is/are supposed to be defending in the Dark Sector Defense nodes where the defendable object is a Warframe Cryopod. They will leap straight through the Cryopod and end up in the middle of it and will proceed to swipe at the center of the Cryopod, often spinning around the center of the Cryopod and taking no direct damage simply from being there. It has been tested on multiple levels that Leapers which end up in the center of the Cryopod seem to take more damage from Primary and Pistol weapons than they otherwise would.
Media
References