Ether Sword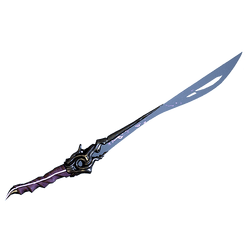 Statistics
Normal Attacks
Charge Attacks
Jump Attacks
Slam Attacks
Slide Attacks
Miscellaneous
A single blade for more precision. The Ether Sword cuts so cleanly that it was considered by the Tenno to be a more humane weapon for 'cleansing' infested allies.

–In-game Description.
The Ether Sword is a Longsword type weapon and is a member of the Ether weapons family, the others being Dual Ether and Ether Daggers, and Ether Reaper.
Can be sold for
 5,000 credits.
Characteristics 
Advantages
Disadvantages
Acquisition
The Ether Sword can be purchased for
175 and the blueprint for
20,000.
Weapon Loadouts
Main article: Category:Ether Sword Build
See the user build section for builds using this weapon.
Trivia
See Also
Media