Like all other Executioners he seems to have a built in reduction for duration based abilities (based on playtests, not confirmed):
Cast: affected for 25% of the duration
Cast: affected for 15% of the duration
Cast and every following: affected for 2.25% of the duration
Reth can deploy "Reth Rollers", identical to Kela De Thaym's Roller Sentries, that attack players with Grakata-like weapons.
Reth can lay special Arc Traps that apply a

Magnetic

proc. These Traps can be shot and destroyed by careful players.
When not deploying traps, Reth will attack players in his line of sight with his Drakgoon. The blue motion trails of his shrapnel can be used to help pinpoint his location.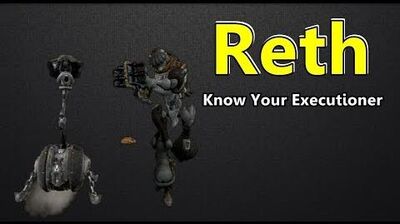 Concept art for Reth's design can be seen in the Codex's "Grineer" Art Gallery.
Ad blocker interference detected!
Wikia is a free-to-use site that makes money from advertising. We have a modified experience for viewers using ad blockers

Wikia is not accessible if you've made further modifications. Remove the custom ad blocker rule(s) and the page will load as expected.