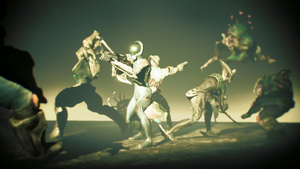 Exterminate Missions requires players to kill a limited number of enemies in the area, and then make it to extraction. A counter will be displayed below the minimap showing the number of enemies remaining. Once all enemies are killed you and any party members may extract at any time, or continue to kill fleeing enemies.
Tactics
Exterminate Missions
Resource Caches
The Exterminate missions at Plato, Lua and Dakata, Kuva Fortress feature Resource Caches similar to those found in many Sabotage missions. These caches provide rewards at the end of the mission based on the number of caches found.
View Exterminate Cache Rewards List
▾
▾
Notes
If the player tries to rush through the map and ignore enemies along the way, the ignored enemies will start sprinting toward the extraction zone.
Hostile environmental objects such as Security Cameras, Arc Traps, and Wildlife are exempt from the counter.
Some missions may change to this type from another type at random. The Lotus will notify you about the change.
Players are unable to join an in-progress mission once half of the required enemies have been killed.
Enemies spawned by other enemies, such as the Shield Ospreys deployed by Corpus Techs or Maggots spawned by Brood Mothers, will be added to the enemy counter. However, Latchers deployed by Seekers will not count. Drahks from Drahk Masters and Infested from Boiler spawn pods will also increase the enemy limit.
Bugs
As of

Update 18.3

, enemies can sometimes not spawn making the mission impossible to complete.
Enemies may sometimes have a spawn delay, making the mission longer to complete than usual.
Media
Ad blocker interference detected!
Wikia is a free-to-use site that makes money from advertising. We have a modified experience for viewers using ad blockers

Wikia is not accessible if you've made further modifications. Remove the custom ad blocker rule(s) and the page will load as expected.