The Fang are dual stilettos released on the 18th of March, 2013.
This weapon can be sold for 5,000

‍ 5,000.
Characteristics
Edit
This weapon deals primarily

Puncture damage.
Advantages:
Deals mostly

Puncture

damage, effective against armored enemies.
A polarity slot.
Fast attack speed.
Jump attack knocks down enemies in a mid-sized area.
Stance slot has a polarity, matches Gnashing Payara stance.
Disadvantages:
Low single strike damage.
Very short range.
low status chance.
Low critical chance.
Comparisons:
Weapon Loadouts
Edit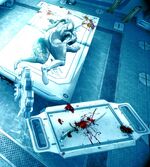 In hidden rooms within Corpus ships, dead Grineer can be found on medical tables, and beside them is a cart with a bloody Fang. It is speculated that this weapon is a torture/medical tool used by Corpus, though a Prime version was released. The reason for the daggers on the table is unknown.
While all other Warframes store the Fangs stacked parallel on each other, only Nekros stores the Fangs in a cross arrangement.
The weapon itself holds a similar design to the Pangolin Sword.
As of

Update 19.4.2

, the Codex displays this weapon with a magazine size of 6.
Patch History
Edit
"I was expecting... I don't know. More."

No patch history is available for this item (none documented in patch notes).
Item introduced with game release.
Ad blocker interference detected!
Wikia is a free-to-use site that makes money from advertising. We have a modified experience for viewers using ad blockers

Wikia is not accessible if you've made further modifications. Remove the custom ad blocker rule(s) and the page will load as expected.