These matching stilettos have increased attack speed and can unleash a flurry of multi-hit attacks.
The Fang are dual stilettos released on the 18th of March, 2013.
This weapon can be sold for

5,000.
Characteristics
Edit
This weapon deals primarily

Puncture damage.
Advantages:
Deals mostly

Puncture

damage, effective against armored enemies.
A polarity slot.
Fast attack speed.
Jump attack knocks down enemies in a mid-sized area.
Stance slot has a polarity, matches Gnashing Payara stance.
Disadvantages:
Low single strike damage.
Very short range.
Very low status chance.
Low critical chance.
Weapon Loadouts
Edit
Jumping, crouching and attacking in quick succession will make you leap very far with this weapon equipped. Using a Fury mod will make you leap even further.
As of Update 11, the Fang can reach game-breaking speeds when combined with Fury, Berserker and Valkyr's Warcry and/or Volt's Speed. Fury and Berserker alone reaches an attack speed of 2.85, with a fully leveled Warcry or Speed, this can be increased further to 3.6 attack speed. With both, it will reach 4.35.

A single Aerial Spin Attack can simply hurl the user to a great distance in ease, due to the instant momentum provided by the Fang.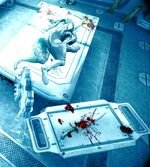 In hidden rooms within Corpus ships, dead Grineer can be found on medical tables, and beside them is a cart with a bloody Fang. It is speculated that this weapon is a torture/medical tool used by Corpus, though a Prime version was released. The reason for the daggers on the table are unknown.
While all other Warframes store the Fangs stacked parallel on each other, only Nekros stores the Fangs in a cross arrangement.