Finishing Damage is a unique damage type that completely ignores armor, damaging health directly without any kind of mitigation. The most common way to deal Finishing damage is from Stealth Finishers and Counterattack Finishers (but not Ground Finishers).

Slash procs also deal Finishing damage, making

Slash weapons very reliable in the face of high level enemies. This type of damage can be further amplified using the Blind status, where stealth multipliers will apply to the final damage. Other sources of Finishing damage are few and far between.
Finishing damage does not produce any kind of status effect.
Type Effectiveness
Edit
Finishing Sources
Edit
Abilities
Edit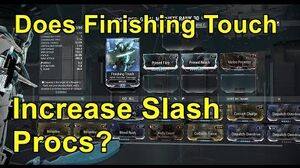 Ad blocker interference detected!
Wikia is a free-to-use site that makes money from advertising. We have a modified experience for viewers using ad blockers

Wikia is not accessible if you've made further modifications. Remove the custom ad blocker rule(s) and the page will load as expected.