ENERGY




75




KEY


3 

Fire Blast


Slams the ground for high damage in a small radius and creates a persistent ring of fire which deals high damage over time.

Strength

:66 / 100 / 141 / 200 (wave damage)
37 / 112 / 150 / 225 (ring damage)

Duration

:

9 / 12 / 15 / 20 s

Range

:5 / 10 / 12 / 15 m (wave radius)
4 m (ring radius)
Ember slams the ground, creating a wave of fire that expands outwards to a radius of 5 / 10 / 12 / 15 meters, dealing 66 / 100 / 141 / 200

Heat

damage with a 100% status chance to enemies that make contact with it, and pushing them back. A ring of fire 4 meters wide and 1 meter thick is also created and lasts for 9 / 12 / 15 / 20 seconds. Enemies that linger within the ring's flames are dealt 37 / 112 / 150 / 225

Heat

damage per second.

All damage is affected by Power Strength.
The Heat DoT inflicts 50% of the initial damage per tick. For Heat procs, the damage ticks 7 times over 6 seconds.
Ignited enemies enter an animation in which they flail in panic for a few seconds.
The fire ring bypasses obstacles in the environment, but the expanding wave's effects do not.
Enemies damaged by the expanding wave suffer knockdown and are violently pushed back.
Damage from the ring is only inflicted within the flames. Enemies are not damaged in the ring's center.
Ring duration is affected by Power Duration.
Wave radius and ring radius are not affected by Power Range.

Can be used while jumping, sliding, flipping, wall-running or wall-clinging.
Has a cast delay of about 0.7 seconds.
Can stack with multiple casts.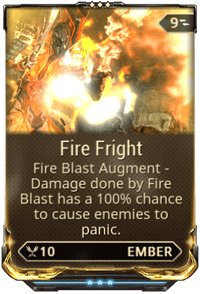 Main article: Fire Fright
Fire Fright is a Warframe Augment Mod for Ember that adds a chance to cause enemies hit by the ring of fire to become panicked.
Perfect for placing around the cryopod in Infested Defense missions.
Can be used as protection, when you're reviving a downed teammate in Infested missions.
Maximization is a form of specialization: mods may be blended to result in values that vary between the top-end limits listed here. Click any maximized link to learn how to build it.
Sometimes an enemy may take 2 damage ticks per second instead of just one.
The value for the damage in-game is incorrectly stated as only 150, while both the wave and ring damage are higher.
Ad blocker interference detected!
Wikia is a free-to-use site that makes money from advertising. We have a modified experience for viewers using ad blockers

Wikia is not accessible if you've made further modifications. Remove the custom ad blocker rule(s) and the page will load as expected.