ENERGY




25




KEY


1 

Fireball


Launches a fiery projectile. It deals high fire damage on contact and moderate fire damage to any who enter the lingering flames.

Strength

:150 / 275 / 300 / 400 (initial damage)
50 / 100 / 125 / 150 (area damage)

Duration

:

N/A

Range

:

N/A

Misc

:

5 m (blast radius)
Ember launches a fiery projectile that inflicts 150 / 275 / 300 / 400

Heat

damage on impact with a 100% status chance. The projectile also inflicts 50 / 100 / 125 / 150

Heat

damage in a 5 meter area of effect around the target with a 50% status chance.

All damage is affected by Ability Strength.
The 5 meter blast radius is not affected by Ability Range.
The Heat DoT inflicts 50% of the initial damage per tick. For Heat procs, the damage ticks 7 times over 6 seconds.
Should Fireball hit an enemy's head, the Heat DoT will inflict 100% of the initial damage per tick for the same duration.
Enemies affected by the Heat proc will panic for a brief duration.
Area damage affects the initial target, does not decrease with distance, and can also perform headshots.

Fireball can be charged before launch.

Launching with a full charged doubles both the initial damage and the Heat DoT.
A red charge circle will be displayed when charging, showing the progress of the charge.
A full charge takes 2.5 seconds.
Charge rate is affected by mods that increase casting speed (e.g. Natural Talent). The charge rate can be reduced to a minimum cap of 1.5 seconds.

Fireball leaves a temporary lingering fire similar to the Napalm after hitting a target or a solid object which lasts for 10 seconds.

The lingering fire deals 20% of Fireball's initial damage on impact.
The fire's duration is not affected by mods or by charging.

Fireball may be cast multiple times on the same target. However, the Heat DoT does not stack.
Projectile has flight time and will continue to travel until it hits a solid object or enemy.
Will not disrupt Shade's cloak.
Will break reinforced Corpus ship windows.
Can be used while performing many actions without interrupting them, including reloading, charging, shooting, and remaining scoped in on Sniper Rifles.
Has a delay of 0.5 seconds between uses.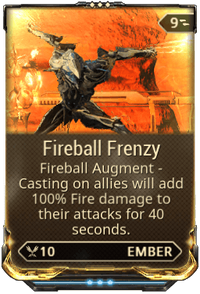 Main article: Fireball Frenzy
Fireball Frenzy is a Warframe Augment Mod for Ember that allows Fireball to be cast on allies, temporarily granting them additional
Heat damage to all attacks, including Warframe abilities.
| Rank | Heat Damage | Duration | Cost |
| --- | --- | --- | --- |
| 0 | 50% | 28s | 6 |
| 1 | 65% | 32s | 7 |
| 2 | 80% | 36s | 8 |
| 3 | 100% | 40s | 9 |
This is a good candidate for Fleeting Expertise since the duration is not negatively impacted.
The lingering fire allows the player to deny an area to the enemy or to protect a flank.
Maximization is a form of specialization: mods may be blended to result in values that vary between the top-end limits listed here. Click any maximized link to learn how to build it.
Casting Fireball repeatedly will sometimes cause the ability to not play its animation and to have the fireball appear with no trail.
Casting Fireball repeatedly will sometimes add an inconsistent delay between the casts, delivering lowered damage output.
Standing Toe-to-toe with an enemy and casting Fireball will cause the Fireball veer wildly off course from the intended direction to the Players crosshair.

This can also cause the fireball to cast through the enemy instead, causing it to go right through them at the point of the crosshair.

Area damage deals double the amount against Crewman and Elite Crewman.