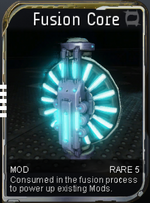 Fusion Cores are a type of mod that are used in fusion to upgrade mods. Unlike some mods, Fusion Cores can be obtained from any faction. When dropped by an enemy on a map they appear identical to a normal mod.
When fusing mods to upgrade them, Fusion Cores can be substituted for regular mods to increase the upgrade energy of a mod. The amount of energy given to a mod when a Fusion Core is used varies depending on rarity and level. The higher level the Fusion Core, the more upgrade energy will be applied to the mod during fusion. Fusing rarer mods and cores is much more cost efficient than fusing common versions.
Fusion Cores can also be sold for a various amount of   
Credits.
As of now there are 3 types of fusion cores.

Common 1 - 3
Uncommon 1 - 5
Rare 1 - 5

Usually you will only obtain Common 3, Uncommon 5, and Rare 5 fusion cores. Under rare circumstances, such as during buggy Warframe versions, you may find fusion cores of lesser mod rating such as Uncommon 3 and Rare 3. 
Tier 1 planets can drop common 1 and 2, and more rarely uncommon 3. Uncommon 1,2 and 4 never seem to drop in the game, as with Rare 1, 2 and 4. 
Rare 3 cores are often awarded in Survival missions, which seem to have as little mod energy as an uncommon 5.
A Rare Fusion Core, Rank 10. Discontinued in Update 7.

Added by

Ace of Gods

During the mod system change between Update 6 and Update 7, all of the previous mods were turned into Fusion Cores to be used in the Update 7 system. During this conversion, all of a player's mods were turned into a random core between the rarity of Common 0/10 up to Rare 10/10. After the conversion, Common Cores were maxed to 3/3, while Rare and Uncommon topped off at 5/5. There is currently no way to obtain x/10 mods, as they are untradable.