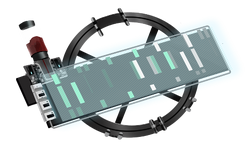 A Genetic Code Template is a medium used for saving genetic information of a living companion. Kubrows and Kavats are able to store up to two genetic imprints which can be traded or sold.
Imprints are primarily used as "parents" for a baby pet. By applying two Genetic Code Templates before the incubation phase, the dominant traits of each imprint will be applied to the Kubrow.
Market and Manufacturing
Edit
The blueprint can be bought for 50,000

‍ 50,000 and is re-usable indefinitely on all platforms.
A crafted Genetic Code Template can also be bought on the Market for
‍ 15.
Imprinting Genetic Information
Edit
When constructed, Genetic Code Templates are empty. Tenno can store the genetic information of an active pet anytime after it matured. Imprinting the genetic code for a pet will take an hour and a half, but can be rushed for
‍ 10. You can only create two imprints per pet.
Stored Information
Edit
The traits mentioned below are stored by a Genetic Code template, and will be passed on to a pet when used.[1] Bear in mind that the information stored will only refer to the pet's original appearance, free of any changes to its coat colors or pattern;
Coat Colors (Primary, Secondary, Tertiary)
Coat Pattern
Eye Color
Breed
Build (Kubrows only)
Head (Kavats only)
Tail(s) (Kavats only)
Template Identification
Edit
A Genetic Code Template contains the name of the pet type it was created after, and also show icons that correspond to a particular type, which can be used to identify the type of pet being traded:

Huras Kubrow
Sneaking with its body level.

Raksa Kubrow
Sitting upright.

Sahasa Kubrow
Standing on all fours with its head low.

Sunika Kubrow
Pouncing with its front legs in the air.

Chesa Kubrow
Walking and holding an item in its mouth.

Smeeta Kavat
Running.

Adarza Kavat
Facing its copy
When Breeding A New Pet
Edit
Go to the Incubator and choose the "Breeding" tab.
Click the "Begin Incubation" button.
Click on the empty imprint slots and add the desired imprints. You must enter two imprints; you cannot begin a combined incubation with only one imprint. However, the imprints do not need to be from the same pet; two imprints from different Kubrows or Kavats can be chosen for a chance to combine traits. Kubrow imprints cannot be used for breeding Kavats and vice versa.
Click "Begin A Combined Incubation" and wait 48 hours for your new pet.
References
Edit