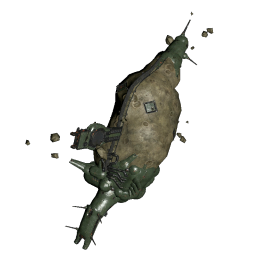 Grineer Asteroid
tilesets appear as mining stations for the
Grineer
. They were the second set released. They feature cavernous rooms with lots of parkour potential and hidden loot rooms. Ventilation shafts are strung about as means of mobilization through the tiles. With a great number of obstacles and hiding places, they favor a melee style of combat, though ranged is still effective, especially for long-range sniping combat.
Interestingly, the metals and other resources required to make the asteroid habitable by the Grineer would appear to be equal to or more than what the asteroid would have contributed to after it was mined out, suggesting that the goal is not to extract common materials like Ferrite but instead much rarer materials such as Gallium for energy weapon research.
The tileset is one of the few that makes the most logical sense location wise, because the planets that these tilesets appear on have moons or asteroids in the vicinity, making it more plausible for there to be Grineer who have mined them out.

Comparatively, the Corpus Outpost tileset exists on Neptune, even though the planet has no surface whatsoever.
Ad blocker interference detected!
Wikia is a free-to-use site that makes money from advertising. We have a modified experience for viewers using ad blockers

Wikia is not accessible if you've made further modifications. Remove the custom ad blocker rule(s) and the page will load as expected.