The Hate is a Scythe melee weapon, like the Reaper Prime and Ether Reaper. Blueprints are found by defeating the Stalker.
This weapon can be sold for

5,000.
Characteristics
This weapon primarly deals 

 Slash  damage. 
Advantages:
Causes large Area of Effect knockdown on jump attack.
Stance slot has polarity, matches Reaping Spiral stance.
Disadvantages:
Shorter reach than other heavy melee weapons.
Jump attack has a very slow animation.
Weapon Loadouts
Main article: Category:Hate Build
See the user build section for builds using this weapon.
Notes
Like all heavy Melee weapons, its finishing attack on downed enemies is slow, not advisable to use around multiple enemies.
Although it's stated attack speed is only 1.0, it has a shorter recovery time between swings than the other two-handed weapons, so its actual attack rate is better.
It seems to have new stealth attacks.The position the camera changes and the image is blurred (checked with Leaper, in Charger the stealth attack no changes).
Bugs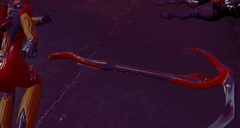 When holstering Hate after use, the weapon can be seen levitating away from the hand upon returning to the back of the user.
Trivia
When holding a datamass, your character will swing Hate with one hand.
Despite the Hate being the weapon featured in the Stalking Fan card, the Hate's stance polarity matches Reaping Spiral's instead.
Media
See Also