Hate is a scythe with a cruel blade, wielded by The
Stalker
.
The Hate is a heavy melee weapon, with higher charge damage than Reaper Prime and Ether Reaper, but slower attack rate. Blueprints are found by defeating the Stalker.
This weapon can be sold for
5,000.
Characteristics
This weapon deals primarily Slash damage.
Advantages:
Can hit multiple targets with normal and charged attacks.
Causes large Area of Effect knockdown on jump attack.
Charged attacks swing low to the ground and allow for consistent attacks on downed enemies and rollers.
Has a short wind-up and a long strike animation. The Fury mod thus provides the greatest increase in charge attack speed, often allowing to forget the use of charge speed mods. It is still advised to use it if you play with charge attack a lot.
Disadvantages:
Shorter reach than other heavy melee weapons.
Jump attack has a very slow animation.
Requires large amounts of materials to craft.
Currently not immune to staggering hits while charging.
No Polarity slot.
Acquisition
The Hate cannot be purchased separately, but it is included in the What Stalker? bundle. Its blueprint can be dropped by the Stalker.
Weapon Loadouts
Main article: Category:Hate Build
See the user build section for builds using this weapon.
Notes
Like all heavy Melee weapons, its finishing attack on downed enemies is slow, not advisable to use around multiple enemies.
The delay after the charge attack is actually part of the charge attack swing and can register hits on enemies that have not been struck yet, and can be shortened as well with the Fury mod.
Mods affecting charge speed (Reflex Coil, Focus Energy and Corrupt Charge) only affect the spin-up time on the charge attack, and therefore do not affect the charge attack speed much.
Although it's stated attack speed is only 1.0, it has a shorter recovery time between swings than the other two-handed weapons, so its actual attack rate is better.
It seems to have new stealth attacks.The position the camera changes and the image is blurred (checked with Leaper, in Charger the stealth attack no changes).
Bugs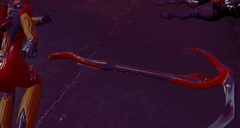 When holstering Hate after use, the weapon can be seen levitating away from the hand upon returning to the back of the user.
Trivia
When holding a datamass, your character will swing Hate with one hand.
Media
See Also