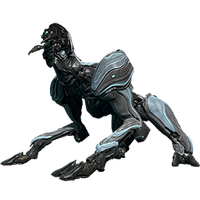 Hyena LN2 (Liquid Nitrogen)
is capable of releasing a path of icicles towards its target, akin to
Frost
's
Ice Wave
; this guarantees Cold proc and inflicts significant damage.
Hyena LN2's Repeater deals
Cold Damage, and Hyena LN2 itself generates a freezing aura effect, which constantly inflicts Cold proc nearby, drastically slowing down those in its vicinity.
Ice Wave

Sends a wave of razor sharp, crystallized ice towards an enemy dealing heavy damage and slowing those caught in its wake.

Strength

:
Moderate

Range

:
20m (Length)
3m (Wide)

Duration

:


Used by

:
Hyena LN2


Lieutenant Lech Kril
If Kril tries to use Ice Wave while one of his cryo hoses is loose, his attack will backfire and freeze him instead.
Ad blocker interference detected!
Wikia is a free-to-use site that makes money from advertising. We have a modified experience for viewers using ad blockers

Wikia is not accessible if you've made further modifications. Remove the custom ad blocker rule(s) and the page will load as expected.