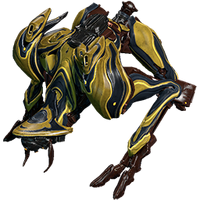 Hyena Ng (Nitroglycerin)
is armed with heavy AoE firepower, it will occasionally fire a
Blast Grenade
capable of knocking down the player. It is also capable of performing
Fire Wave
, which lights a path of ground on fire and also guarantees Fire proc.
Hyena Ng's Repeater deals
Heat Damage and it is highly resistant to
Heat damage due to its Fire Resistance aura, as stated in its tooltip.
Blast Grenade

Shoots a volatile, burning grenade which will explode in a blast on physical contact.

Strength

:
High

Range

:
N/A

Duration

:
N/A

Used by

:
General Sargas Ruk
Hyena Ng
Launches a slow, burning projectile which will explode high

Blast

damage to all targets, occasionally inflicting knockdown.

Damage scales with level.
Projectiles shot from this ability are very slow, along with steep arcing. This allows for an easy escape to those who sees the projectile coming.
Fire Wave

Sends a wave of pyre, combusting flames towards an enemy, dealing heavy damage and burning those caught in its wake.

Strength

:
High

Range

:
20m (Length)
3m (Wide)

Duration

:


Used by

:
Hyena Ng
Lieutenant Lech Kril
Has a long casting delay, which opens a lot of room to dodge this ability.
Damage can be mitigated with the Fire Resistance mod.