Kama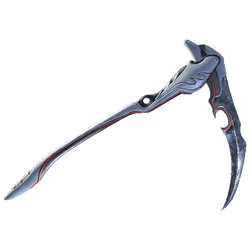 Statistics
Normal Attacks
Jump Attacks
Slide Attacks
Miscellaneous
The Kama is a Tenno style hatchet, capable of making short work of any foe.
The Kama is short ranged slashing weapon, capable of striking multiple enemies.
This weapon can be sold for
‍5,000.
Characteristics
Edit
This weapon deals mostly Slash damage.
Advantages
Two polarity slots.
Able to hit up to three enemies at once with attacks.
With a maxed Fury it can strike 2.1 times a second.
Jump attack knocks down enemies.
Basic attacks have momentum, you won't get staggered by enemies.
Disadvantages
Comparatively low Impact and Puncture.
Very small jump attack radius.
Very short reach.
Abysmal chance to Proc.
Normal attacks slow you down to a walking pace making it hard to hit moving enemies.
Weapon Loadouts
Edit
Main article: Category:Kama Build
See the user build section for builds using this weapon.
Machete and the Kama share the same moveset; Machete's is updated to match the Kama's.
With a max Fury mod it has a mobility effect on its slide attack similar to the Dual Zoren.
The movement speed per attack varies; the first two side swipes move at walking speed, the third uppercut halts movement, the last downward strike takes a big step forward.
Enemies are almost always dismembered by the Ground Finisher.
Kama refers to a farming tool. Much like the sickle, it's made for cutting crops and farming rice. It was used as an improvised and easily hidden weapon. Being seen as a farming tool, it could even be hidden in plain sight. Due to this nature it was a preferred weapon for the ninja. It is still used in martial arts training.