ENERGY




25




KEY


1 

Landslide


Bash enemies with an exploding sliding punch, repeat for a devastating combo.

Strength

:[1 hit] 100 / 200 / 300 / 350
[2 hits] 200 / 400 / 600 / 700
[3+ hits] 400 / 800 / 1200 / 1,400


Duration

:

1 s (combo window)

Range

:8 / 10 / 12 / 15 m (dash range)
[1 hit] 1.5 m (impact radius)
[2 hits] 3.0 m (impact radius)
[3+ hits] 4.5 m (impact radius)
Atlas charges forward to punch a target enemy up to 8 / 10 / 12 / 15 meters away. The target and enemies within 1.5 meters are dealt 100 / 200 / 300 / 350

Impact

damage as a melee strike with a 200% critical damage multiplier, a 5% critical chance, and a ? status chance.

Base damage is affected by Ability Strength and the Melee Combo Counter.
Each enemy struck adds to the Melee Combo Counter.
Landslide is affected by certain melee mods including base damage (e.g. Steel Charge),

Impact

damage, elemental damage, critical damage, critical chance, and status chance mods.
AoE damage bypasses obstacles in the environment and does not diminish with distance.
Impact radius is affected by Ability Range, while the dash range is not.
Atlas' health is immune to damage while dashing.

Landslide can be recast within a 1 second window to perform a repeating combo chain. Each successive hit in the chain deals increasing damage with a larger impact radius and reduced energy cost up to a cap:

200% damage, 200% impact radius, and 50% cost reduction for the second hit
400% damage, 300% impact radius, and 75% cost reduction for the third and all subsequent hits in the chain
Atlas ragdolls enemies with an uppercut on every third successive strike in the chain. All other strikes stagger enemies.
Combo window is affected by Ability Duration and cannot fall below 0.5 seconds under any circumstances.
The duration of the combo window and the respective damage multiplier for the next cast are displayed underneath the HUD's targeting reticle.
If no casts are performed within the combo window, the damage and energy cost will reset.
If the target dies before Atlas lands his punch, energy used for Landslide will be refunded.

Casting Landslide requires an unobstructed enemy target.
Landslide is capable of locking onto and attacking invisible enemies (e.g. Stalker).
Can be cast while in the air.
Killing an enemy with this ability is not counted as a Melee Kill. Therefore the Swordsman Challenge is not affected by the successive use of the ability.
Shattering Impact does not work on this ability even though it deals impact damage.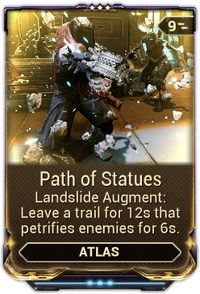 Main article: Path of Statues
Path of Statues is a Warframe Augment Mod for Atlas, that makes Landslide leave a petrifying path for a short period.
| Rank | Path Duration | Petrify Duration | Cost |
| --- | --- | --- | --- |
| 0 | 7s | 4s | 6 |
| 1 | 8s | 5s | 7 |
| 2 | 10s | 5s | 8 |
| 3 | 12s | 6s | 9 |
Landslide excels at rampaging between spread out clusters of enemies.
Take advantage of the dash's health invulnerability to charge through devastating attacks
Landslide's combo multiplier is separate from the Melee Combo Counter, and both work together to massively increase Landslide's damage.
Try these tips to make the most of the combo multipler's short reset window:

Use Duration increasing mods to lengthen the window.
Perform a Bullet Jump maneuver between casts to extend Atlas' reach.

Note that Landslide can be cast while in midair, but Atlas' knockdown immunity will not apply while he is not grounded.

Landslide's base damage uses the following expression when accounting for Ability Strength:

Modified Base Damage = Base Damage × (1 + Base Damage Bonus) × (1 + Ability Strength)

. As an example, with a maxed Steel Charge, Pressure Point, and Intensify, a rank-3 Landslide will have

350 × 2.8 × 1.3 = 1274

base damage.
Energy cost reduction is applied to Landslide's modified activation cost. As an example, with a maxed Streamline the next successful cast will consume

25 × 0.7 × 0.5 = 8.75

energy, and any successful cast thereafter will consume

25 × 0.7 × 0.25 = 4.375

energy.
Landslide benefits from elemental damage granted by certain augmented abilities of other Warframes, including:
Maximization is a form of specialization: mods may be blended to result in values that vary between the top-end limits listed here. Click any maximized link to learn how to build it.
Ad blocker interference detected!
Wikia is a free-to-use site that makes money from advertising. We have a modified experience for viewers using ad blockers

Wikia is not accessible if you've made further modifications. Remove the custom ad blocker rule(s) and the page will load as expected.