Lato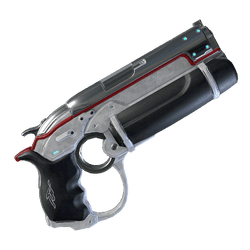 Statistics
Utility
| | |
| --- | --- |
| Projectile Speed | Hit-Scan |
| | |
| --- | --- |
| Firing Rate | 6.7 rounds/sec |
| | |
| --- | --- |
| Magazine Size | 15 rounds/mag |
Normal Attacks
Miscellaneous
The Lato is one of the starting weapons in Warframe. A dual-wield version of the Lato, Aklato is also available but must be purchased separately.
Two special counterparts of the Lato, the Lato Prime and the Lato Vandal exist, they were given to purchasers of the Grand Master Founder's package and participants in the closed beta respectively.
This weapon can be sold for
‍2,500.
Characteristics
This weapon deals primarily Slash damage.
Advantages
Good rate of fire.
Cheap.
Low recoil, making it easy to aim weak spots.
Accurate for close to medium ranged combat.
Disadvantages
Acquisition
This is the pistol all players begin the game with. This weapon can be bought for
‍10,000.
Weapon Loadouts
Main article: Category:Lato Build
See the user build section for builds using this weapon.
Notes
It is used in the Bolto's blueprint.
Trivia
This is possibly Grineer Lancer's default secondary weapon, due to the fact they are using them in the tutorial. (May have been a placeholder, as the Lato is a weapon crafted by the Tenno)
This is the first secondary weapon every player will own.
It was seen in the Dark Sector original concept video.
It bears a passing resemblance to the pistol from Blade Runner.
Media
See Also