Lex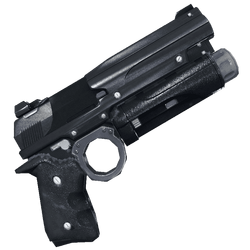 Statistics
Utility
| | |
| --- | --- |
| Projectile Speed | Hit-Scan |
| | |
| --- | --- |
| Firing Rate | 1.1 rounds/sec |
| | |
| --- | --- |
| Magazine Size | 6 rounds/mag |
Normal Attacks
Miscellaneous
The LEX is a powerful, accurate pistol that has a lower rate of fire and clip size. Very efficient at long range.

–In-game Description
The Lex is a sniper pistol. It's the slowest firing side-arm in Warframe, but has high damage and very high accuracy. The Lex's damage output does not falter at long distances, making it a potent alternative to the Latron, Vectis, and Vulkar. It is capable of dispatching most light armored enemies with a well-aimed headshot.
This weapon can be sold for
5,000.
Characteristics
This weapon deals primarily Puncture damage.
Advantages:
Disadvantages
Acquisition
This weapon can be bought for 
 50,000.
Weapon Loadouts
Main article: Category:Lex Build
See the user build section for builds using this weapon.
Notes
Tips
Trivia
See also
Media