The developers at Digital Extreme are doing another installment of their Livestream Developer Q&A.
The stream starts at Sept 4th at 14:00 EDT (check own timezone).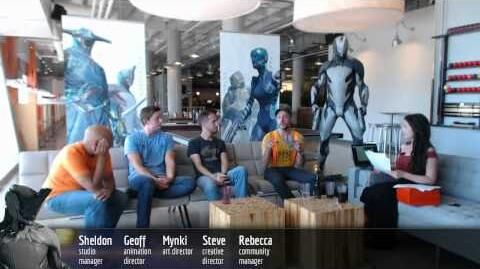 Corpus Tile set, Syndanas, and
Nekros Frame previews.
Announcements
Edit
Future helmets will not have stats. (Older ones will be left as they are maybe)
New wildlife: Battle bred Kubrow.
Trading still in the works, but other projects are taking priority.
Warframe changes:
Nekros Warframe's powers announced (Ability Discussion).

Soul Punch: Direct X% damage that knocks the soul out of them, 5% armor debuff, stacking (Similar to Fireball)
Terrify: Nekros deploys a totem of terror, causing X number of enemies within radius to freeze in fear; the rest will flee. (Similar to Radial Blind)
Desecrate: Generates loot from corpses (health, energy, ammo, etc.).
Shadows of the Dead: Nekros creates friendly nano bot clones of the last X enemies he has killed.

"Scarves" in the works.
Text Recap by ...
Edit
Ad blocker interference detected!
Wikia is a free-to-use site that makes money from advertising. We have a modified experience for viewers using ad blockers

Wikia is not accessible if you've made further modifications. Remove the custom ad blocker rule(s) and the page will load as expected.