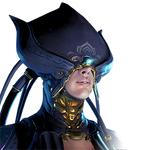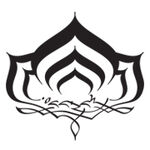 Lotus is a mysterious figure that guides the players through their missions. Little is known about the Lotus or her origins, however the lotus symbol on her helmet/hood suggests allegiance with the Tenno.
Throughout missions, Lotus will advise players of incoming enemy units and their awareness of the players' presence at the start of a mission and upon an enemy alerting the rest by using a control console. She will also advise the player of heavy units when they are nearby such as the Infested Ancients, Corpus Shockwave MOAs, and various heavy Grineer.
Occasionally during a mission Lotus will command that you ignore your original task and will issue a new one.  For example, during a Spy mission Lotus may order you to instead eliminate all enemy units and the objective will become Extermination. Any objects related to the old mission type will become obsolete and no longer needed to complete the mission.
The Lotus is voiced by Rebecca Ford, the Community Manager of Digital Extremes.
Sometimes before Update 10 a female Grineer (e.g. a Heavy Gunner or a Ballista) will say "Death to the Lotus!" when engaging a Tenno in combat.
Before a recent update, the voice often referred to as the Lotus states at the end of some missions, "Good work Tenno, the Lotus will be pleased." hinting that the Lotus may be an organization rather than a single entity. This is recently changed to "I am pleased", stating the Lotus is in fact the speaker herself.
In Update 10.6.0, the Lotus's profile changed to a vampire edition for Halloween, featuring scarlet clothing, pale skin, and a trickle of blood running from her mouth.
Though it is debated, the Lotus seems to behave like a human through her speeches. These include in referring the escape of the Tenno, "That's it. Now, get the hell out of here." Proving that her figure in the Tennos' display has justified her as a human.
The Lotus symbol can also be seen on the left arm Nemesis from the game Dark Sector, a prequel game to Warframe.