| | |
| --- | --- |
| | This item is no longer available for purchase. |
Machete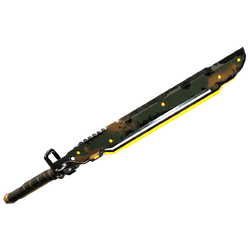 Statistics
Normal Attacks
Charge Attacks
Jump Attacks
Slam Attacks
Slide Attacks
A ferocious melee weapon crafted by the Grineer and carried by their elite melee forces.

–In-Game Description
The Machete is a Grineer melee weapon released in Update 8, and it can be seen in the hands of Grineer Scorpions. The Machete was removed from the market as of
Update 10.4.0.
This weapon can be sold for
5,000.
Characteristics
Advantages:
Deals 3x damage to non-Ancient Infested.
Final attack of new moveset combo allows two hits in one swing.
Staggers Infested Ancients, Corpus and non-heavy Grineer units on every hit.
Normal hits has low chance of being interrupted.
Disadvantages:
Hits only one enemy. (On rare occasions it may hit a maximum of two enemies per attack. This has been confirmed, but rare occasion must be stressed)
Low base damage, equal to Skana.
Average charge damage.
Has no polarity slots.
New moveset often misses an enemy directly ahead on the second strike.
Has a small jump attack radius, even compared to most other swords.
Unobtainable after Update 10.4.0.
Acquisition
As of Update 10.4.0, the Machete was removed from the market, making it only obtainable through Login Bonus.
Weapon Loadouts
Main article: Category:Machete Build
See the user build section for builds using this weapon.
Notes
The whole weapon can be recoloured.
Trivia
See also
Media