With full command of surrounding magnetic energy, MAG is an expert at enemy manipulation.

–In-game description
Mag is a Warframe based on magnetic force. She boasts high shield strength in exchange for reduced suit integrity and average power capacity. Her abilities make her a potent medium for crowd control.
Acquisition
The Mag Warframe can be purchased for
175. The main blueprint can be purchased for
 25,000.
Component blueprints drop from Sgt. Nef Anyo (War, Mars)
Manufacturing Requirements

| Resource | Quantity |
| --- | --- |
| Mag Helmet | 1 |
| Mag Chassis | 1 |
| Mag Systems | 1 |
| Orokin Cell | 1 |
|    Credits | 25,000 |
| Build Time | 3 days |
| Rush Build | 50 |
Trivia
As of Update 7.9, the color of the energy on Mag's mask can be changed.
Mag appears to be the shortest Warframe.
Mag is the first female primed Warframe.
Both of Mag's alternate helmets are named after Gauss' projectile accelerator consisting of one or more coils used as electromagnets linearly to accelerate a magnetic or conducting projectile to high velocity. Many people have made airsoft guns by exploiting the said projectile accelerator, hence the name Gauss gun, also known as Coil gun.
A Mag is briefly shown in Livestream 17 along with Alad V.
The exquisite MAG PRIME offers the same abilities as MAG but with unique mod polarities for greater customization.

–In-game description
Mag Prime features an additional

polarity slot, but is otherwise identical to the Mag. The blueprint for Mag Prime is known to be attainable from Void Survival missions, along with its components.
Acquisition
Mag Prime's blueprint and its components can be acquired from Orokin Void's survival missions. See the drop table for more details.
Mag Prime is rewarded in Orokin Void Survival Missions.
Mag Prime blueprint: Tower I Survival
Mag Prime Helmet blueprint: Tower I Survival, Tower II Survival
Mag Prime Chassis blueprint: Tower I Survival, Tower II Survival, Tower III Survival
Mag Prime Systems blueprint: Tower II Survival, Tower III Survival
Manufacturing Requirements

| Resource | Quantity |
| --- | --- |
| Mag Prime Helmet | 1 |
| Mag Prime Chassis | 1 |
| Mag Prime Systems | 1 |
| Orokin Cell | 3 |
| Credits | 25,000 |
| Build Time | 3 days |
| Rush Build |  50 |
Trivia
Mag Prime was added in Update 10 and is the third Prime warframe added to the game.
Mag Prime is one of the first Warframes (with the other being Nekros) to require 3 orokin cells to craft
Mag Prime has a secret interaction with Death Orbs. Upon approaching one, it will replenish your energy by 100 points and the swirling energy in the Death Orb will change to just black. This can only be done once per Box Trap. This is true for all Prime Warframes.
While in idle animation, Mag Prime levitates throwing sidearms (Hikou, Kunai, Despair) with her magnetic forces.
Similar to Excalibur Prime and Frost Prime, Mag Prime is able to use the alternate helmets (Coil Mag Helmet & Gauss Mag Helmet, as well as regular Mag's default helmet).
Prior to Update 10.3.0, Mag Prime's secondary color could tint the gold accents on her body.
See Also
Prime, the original Orokin version of a Warframe or weapon.
Media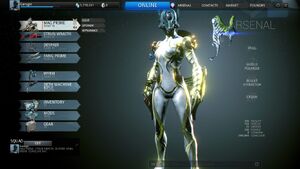 Pull

Energy: 25
Power #: 1
Magnetic force pulls the enemy towards you, stunning them and bringing them into melee range.
Equip Cost:
0 / 1 / 2 / 3

Power Strength

:
100 / 125 / 150 / 300

Power Range

:
15 / 20 / 22 / 25

Power Duration

:
N/A
Shield Polarize

Energy: 50
Power #: 2
Restores or depletes the shields of surrounding targets, depending on whether it is friend or foe.
Equip Cost:
10 / 11 / 12 / 13

Power Strength

:
10 / 15 / 25 / 50 % (Shields)
100 / 150 / 200 / 250 % (Explosion)

Power Range

:
10 / 15 / 20 / 25 (Shields)
5 / 8 / 11 / 14 (Explosion)

Power Duration

:
4 / 5 / 6 / 7s
Bullet Attractor

Energy: 75
Power #: 3
Strongly magnetizes a target enemy, causing bullets that pass nearby to change direction and strike the enemy.
Equip Cost:
6 / 7 / 8 / 9

Power Strength

:
125 / 150 / 175 / 200
(% Multiplier)
50 / 100 / 200 / 300 (Explosion)

Power Range

:
3 / 6 / 9 / 12
(% Multiplier)
5 / 10 / 12 / 15 (Explosion)

Power Duration

:
15s
==Pull==
Update 9.8 drastically changed the functionality of Pull. Instead of pseudo-teleporting enemies in its reach to Mag's feet, the ability yanks enemies upwards and literally tosses them in Mag's general direction. While this change almost completely eliminates Pull's old synergy with Punch Through-modded guns and long reach weapons, the ability's crowd control ability has been significantly increased as enemies are helpless while flying through the air and take several seconds to recover after landing due to the ragdoll effect.
The significant initial damage dealt by the skill, its long base range and the fact that it can harm enemies through walls and floors allows Mag to clear whole rooms by repeatedly using Pull in the general direction she suspects enemies are coming from until she sees Affinity numbers appear. 
Shield Polarize
This ability is especially effective against Corpus as units protected by Shield Ospreys will act as sources of the ability's radial damage. The cumulative damage from a large group of Corpus that are being protected is usually enough to kill all the Ospreys instantly and possibly even eliminate some of the other units. At the very least the entire group will be knocked down.
Out of all abilities, Shield Polarize benefits the best from Power Strength mods (Focus and Blind Rage) as it applies the multiplier twice. The first improves its shield drain percentage and the second improves the damage percentage dealt to nearby.
Be cautious around explosive barrels and reinforced glass as the damage can break environmental objects in a large radius around each affected enemy.
Bullet Attractor
Increasing the range of the Attractor through fusion, the Stretch mod and the Coil helm will allow the field to clip through more walls and obstacles, significantly improving Mag's ability to hit an affected enemy while remaining behind cover and blocking enemy fire over a larger area.
Although enemy fire inside the field is redirected, it will still damage Mag or her allies if they are inside with the affected target. 
Crush
When playing solo, the knockdown portion of Crush will disable enemies that Mag really doesn't want to pull - such as Grineer heavies in the middle of a Radial Blast animation - long enough after the animation ends for her to shoot them or escape. Crush is also effective as a panic button for the same reason since the aforementioned enemy types will be well within the range of the ability if they're close enough to threaten Mag with their signature abilities.  
Mag can be equipped with:
See Also