Mastery is an in-game method of tracking a player's relative skill level and how much of the game's content they have experienced. Mastery points are earned by leveling up unique weapons, companions and Warframes, the successful completion of uncompleted mission nodes. Weapons and Warframes are leveled up with Affinity.
Mastery ranks unlock level capped weapons and Warframes and raise the number of times a player can trade per day. You will also be able to deploy more Extractors at higher levels.
In-game, players can view their profile and statistics (Go to the main menu and select "Show Profile" at the top left of the screen) and take a closer look at their mastery progression.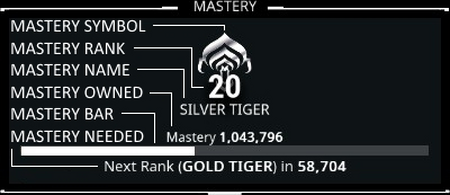 Tests
In order to be promoted to the next mastery rank, a player must pass a test which differs from rank to rank with difficulty increasing with Mastery Rank. If the test is failed, the Tenno will not be able to try again for 24 hours. Even if a test is passed, a new test cannot be started for 24 hours. To prevent from failing the tests, you may practice them in the corridor to the right of Cephalon Simaris' room in any Relay.
Tenno will enter the test equipped with whatever equipment is currently active in the arsenal. A Tenno cannot be in a party when qualifying itself, meaning they must complete the trial by solo.
Powers can be used normally, so it is recommended to bring Team Energy Restores to keep a supply of energy on demand to ease the completion of the test.
The table below shows the test players will take to get to the next rank. For example, passing the test on the Level 1 tab will advance you to Rank 1/ Initiate.
Rank 1-10
Rank 11-19
Mastery Ranks
Experience needed for each level is calculated by the formula: 2,500 * (Rank²)
Rank Image
Rank Name
Rank Number
Next Rank Requirement
Total XP Required
Test
Note
None
Unranked
0
0
None
Initiate
1
2,500
2,500
Primary Test

Corpus
Rank 1-3

Silver Initiate
2
7,500
10,000
Sidearm Test
Grineer
Rank 1-3
Gold Initiate
3
12,500
22,500
Melee Test
Grineer
Rank 1-3
Novice
4
17,500
40,000
Infested Evasion Test
Infestation
Rank 12-15
Silver Novice
5
22,500
62,500
Terminal Hacking Test
None
Gold Novice
6
27,500
90,000
Target Tracking Test
None
Disciple
7
32,000
122,500
Timed Exterminate Test
All Factions
Rank 10-15
Silver Disciple
8
38,000
160,000
Wallrun Test
None
Gold Disciple
9
42,500
202,500
Stealth Test
Grineer
Rank 1
Seeker
10
47,500
250,000
Disappearing Platform Test
Grineer
Rank 1
Silver Seeker
11
52,000
302,500
Time Trial Test
None
Gold Seeker
12
57, 500
360,000
Carousel Test
Grineer
Rank 1
Hunter
13
62,500
422,500
Advanced Disappearing Platform Test
Grineer
Rank 1
Silver Hunter
14
67,500
490,000
Advanced Exterminate Test
All Factions
Rank 20-25
Gold Hunter
15
72,500
562,000
Grineer Interception Test

Three Towers
Rank 15-20

Eagle
16
77,500
640,000
Corpus Defense Test
3 Waves
Silver Eagle
17
82,500
722,500
Infested Exterminate Test
35 Targets
Gold Eagle
18
87,500
810,000
Corpus Defense Test

5 Waves
Rank 27-30

Tiger
19
92,500
902,500
Grineer Rescue Test

Grineer
Rank 15

Silver Tiger
20
97,500
1,000,000
?
Currently Unobtainable
Gold Tiger
21
102,500
1,102,500
?
Currently Unobtainable
Dragon
22
107,500
1,210,000
?
Currently Unobtainable
Silver Dragon
23
112,500
1,322,500
?
Currently Unobtainable
Gold Dragon
24
117,500
1,440,000
?
Currently Unobtainable
Sage
25
122,000
1,562,500
?
Currently Unobtainable
Silver Sage
26
128,000
1,690,000
?
Currently Unobtainable
Gold Sage
27
132,000
1,822,500
?
Currently Unobtainable
Master
28
138,000
1,960,000
?
Currently Unobtainable
Middle Master
29
142,500
2,102,500
?
Currently Unobtainable
Grand Master
30
147,500
2,250,000
?
Currently Unobtainable
Gaining Mastery Points
Below are the ways a Tenno can gain Mastery Points:
The first completion of a Mission node will earn ~58 mastery points (varying).
Each individual item (such as a weapon or warframe) only grants its Mastery XP once per level. For instance:  leveling an item to max level, selling it, then leveling it again will not result in additional Mastery. Releveling an item after Polarization results in the same situation.  However, if an item is sold, rebought, then leveled to max, Mastery XP will be gained for all levels achieved beyond the original level.
Mastery points are not wasted if a Tenno fails a test. Excess mastery points will automatically fill the mastery bar once passing the test.
As of Update 16.11.4, the current maximum rank is Mastery Level 19, Tiger with 998,796 total Mastery Points.
With none of the Exclusive Mastery items (15 Event, 3 Founder, 4 Retired, 6 Prime Vault, and 6 Void Trader), the current maximum rank is Mastery Level 18, Gold Eagle with 887,796 Mastery Points.
| Mastery Source | Total Number | Mastery | Total Mastery |
| --- | --- | --- | --- |
| Warframes | 33 | 6000 | 198000 |
| Weapons | 211 | 3000 | 633000 |
| Companions | 12 | 6000 | 72000 |
| Sentinel Weapons | 8 | 3000 | 24000 |
| Archwings | 4 | 6000 | 24000 |
| Archwing Weapons | 11 | 3000 | 33000 |
| Mission Nodes | 253 | (varies) | 14796 |
| Total | 532 | | 998796 |
The 33 Warframes include:
The 211 Weapons include:
The 12 Companions include:
The 8 Sentinel Weapons include:
6 from Sentinels purchasable from the Market
2 from Prime Sentinels
The 4 Archwings include:
The 11 Archwing Weapons include:
Exclusive Mastery
View Exclusive Mastery List
▾
▾
Most Mastery-rewarding items or their blueprints can be directly farmed, bought or researched. The following items are the exceptions. They are equipment that had a limited distribution period or have been removed from circulation.
Founder Exclusive
Acquisition: Impossible.
These items were given to those who donated to the earliest stages of the game. As rewards for their help at that crucial time, these items can never after be obtained.
Market Retired
Acquisition: None currently, with exceptions.
These items were once for sale in the Market but have been removed. The Gorgon is still available as a random Login Reward. The Boar can be obtained for an exorbitant

545 in the Wrecking Rhino Pack bundle.
Ether Daggers was retired before being reintroduced as a quest reward. The Machete (on PC and PS4) and Ether Daggers (on PS4) have also both appeared as special login or alert rewards.
Event Reward
Acquisition: None currently.
These items were available as rewards from special Operations, or just from logging in during celebratory periods like anniversaries or development milestones.
There is hope for reappearances from this category. Strun Wraith has been released multiple times. The Brakk was an event reward before becoming a Grustrag Three drop. The Dex Furis as an award for the first anniversary was re-released along with the Dex Dakra for the second anniversary, and either may appear again around the end of March. Most recently, two former event items Prova Vandal and Machete Wraith were added to the Void Trader's rotating merchandise.
| Item | Type | Mastery |
| --- | --- | --- |
| Lato Vandal | Secondary | 3,000 |
| Braton Vandal | Primary | 3,000 |
| Snipetron Vandal | Primary | 3,000 |
| Strun Wraith | Primary | 3,000 |
| Wraith Twin Vipers | Secondary | 3,000 |
| Gorgon Wraith | Primary | 3,000 |
| Dex Furis | Secondary | 3,000 |
| Latron Wraith | Primary | 3,000 |
| Sheev | Melee | 3,000 |
| Imperator Vandal | Archwing Gun | 3,000 |
| Dex Dakra | Melee | 3,000 |
| Quanta Vandal | Primary | 3,000 |
| Karak Wraith | Primary | 3,000 |
| Total | | 39,000 |
Prime Vault
Acquisition: Blueprints still tradeable from players.
These items were removed from the Void drop tables to make room for newer Prime items. For now the blueprints can only be obtained from other players who acquired them previously. DE has implied they will eventually return.[1]
Void Trader
Acquisition: Directly tradeable from players if Unranked. With the exception of Prova Vandal and Machete Wraith, which are not tradeable.
These are part of Baro Ki'Teer's merchandise. They will occasionally return to the Void Trader's stock on future visits.
References
Mastery Benefits
The Mastery system indicates a player's overall progression through the game, and each rank comes with its own benefits. Below is a table noting such benefits.
Equipment Unlock
"I think this ship is Infested, you know what to do."

This article is in need of a clean-up. You can help out the wiki by re-organizing parts of the article, checking grammar and spelling to improve the article.
Other Benefits
The number of Extractors you can deploy is dependent on your Mastery Rank and whether or not you have Founders/Prime Access status. For every five mastery ranks, you can deploy one additional drone. Having Founder/Prime access lets you deploy one more additional drone. If you are both a Founder and have Prime Access, these bonuses stack. Contrary to common belief, reaching Mastery Rank 15 does not allow a player to deploy an additional drone.

Mastery 0–4: 1 drone
Mastery 5–9: 2 drones
Mastery 10+: 3 drones
Founder/Prime Access: +1 drone

From Mastery Rank 1 onwards, ranking up allows the ability to earn 1000 additional standing points with a Syndicate per day.
Mastery Rank 2 unlocks the Trade System, and each Mastery Rank gained will get you one trade permission per day.
From Mastery Rank 2 onwards, ranking up every 2 times unlocks a new Loadout slot in the Arsenal.
Mastery Rank 6 unlocks all Market and Syndicate weapons besides the Dragon Nikana which requires Mastery Rank 8.
Mastery Rank 8 unlocks all clan Research weapons.
Mastery Rank 8 unlocks all Relays.
Notes
Certain weapons have a minimum mastery rank requirement (XP Locked).
Applying forma to weapons does not allow you to obtain mastery with them again, each item can only be used to obtain mastery once.

Variants, such as Primes, Wraiths, Vandals etc allow you to gain mastery separate from the original item. In example, contrary to belief, having a second pair of the anniversary Dex Furis will not allow you to gain mastery points for the Dex Furis twice.

Resources dropped during seem to be identical to those dropped in the Orokin Void.[2]
See Also
Media
References