Release Date: July 18, 2014
Mysterious and mischievous, Mirage manipulates the spectrum of light to dazzle her foes. With deceitful mirror images, colorful photokinetic displays and explosive pranks up her sleeves, every battlefield becomes the stage for her next performance. Mirage was unveiled in Update 14.0. 
Component blueprints are awarded at the end of each mission for the Hidden Messages quest. The previously awarded component must be built to obtain the next components.
Warframe Guides
Edit
"I am the Lotus. I will guide you, but we must hurry."

Guides are created by users like you. They aren't as strictly regulated as most pages, so keep an eye out for dated or subjective information.

Have your own build and playstyle? You can contribute too! Instructions are within.
See Category:Mirage Guides to read user-made guides on how to play this Warframe.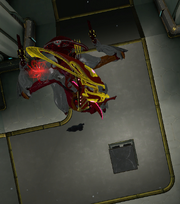 In the game Mirage first appeared on the fire damage/status chance mods rewarded from the Operation Breeding Grounds event, shown with the new Sybaris and Pyrana.
Her second appearance is in a teaser trailer revealed on day 5 on www.theliset.com, the teaser site for Update 14.
Details of one of Mirage's abilities, internally named the "Comedy of Errors", (now named Sleight Of Hand and is her second ability) were leaked in Devstream 31. 
Mirage's design aesthetic is based on the harlequin, and has an alternate helmet named so.

Both helmet designs also have elements inspired by the cuttlefish, particularly the body of the default helmet and the face of the alternate. Cuttlefish have been the subject of much recent study for their ability to perceive polarized light and to produce complex shifting patterns on their skin.

Mirage's third ability, Eclipse, has visual effects that evoke the phrase smoke and mirrors. Many tricks of stage magic and illusion are performed with the aid of special mirrors, lighting and distracting bursts of smoke, hence the idiom "It's all done with smoke and mirrors." The phrase has entered wider usage to refer to other sorts of fraud and deception, especially when hidden by some flashy display.
She is the third frame with an ultimate power that toggles and does not cost 100 energy to cast, the others being Nyx, Banshee, Mesa, Chroma and Equinox.

Prism is the first ability to have both a toggle and a maximum duration.

Barring Prime variants, Mirage is the 20th Warframe released.
Mirage is the first Warframe that can be obtained through a quest.
Mirage was a Warframe used in the Sentient war that occurred before the events of the game.
Jester's Proficiency
Edit
Mirage has an increased proficiency when performing several Maneuvers.
+25% faster Bullet Jump speed
+50% faster Maneuver speed
Abilities
Edit



ENERGY




50




KEY


2 

Sleight Of Hand


A natural prankster, Mirage booby traps nearby objects.

Strength

:

50 / 125 / 180 / 200 (explosion damage)

Duration

:

9 / 12 / 15 / 18 s (trap duration)

Range

:10 / 20 / 30 / 40 m (cast radius)
4 / 5 / 6 / 8 m (explosion radius)



ENERGY




25




KEY


3 

Eclipse


Standing in light, Mirage deals heavy damage, while the shadows make Mirage difficult to track and even harder to hurt.

Strength

:115% / 125% / 150% / 200% (maximum damage bonus)
25% / 40% / 60% / 75% (maximum damage reduction)

Duration

:

10 / 13 / 18 / 20 s

Range

:

N/A



ENERGY




50




KEY


4 

Prism


Fires an energy prism that shoots lasers in all directions. Activating again detonates the prism, blinding nearby foes.


Energy Drain: 10 s-1

Strength

:80 / 120 / 170 / 250 (minimum damage)
160 / 240 / 340 / 500 (maximum damage)
10 / 13 / 16 / 20 (lasers)

Duration

:12 s (prism duration)
7 / 10 / 12 / 15 s (blind duration)
5 m·s-1 (speed)

Range

:15 / 20 / 25 / 30 m (laser range)
8 / 12 / 15 / 25 m (blind radius)
| Strength Mods | Duration Mods | Range Mods |
| --- | --- | --- |
| | | |
| | | |
| | | |
| | | |
Mirage is a light Warframe that possesses incredible offensive powers capable of decimating large groups of enemies, akin to Nova. However, Mirage relies primarily on self-enhancement and environmental manipulation powers to achieve this end, and is reliant on taking advantage of her surroundings to maximize the effectiveness of her various powers.
As one of the more fragile Warframes, Mirage relies on her powers to divert away enemy fire or protect herself, as well as her above average mobility that allows her to dart in and out of harm's way quickly.
Update 16.3
Sleight of Hand - Explosive Legerdemain: Pickups are turned into proximity mines that deal damage with proc chance.
Fixed visual issue with the Edo Prime Chest Piece when equipped to a Mirage using Eclipse.
Fixed Mirage's clones from Hall of Mirrors sometimes shooting in the wrong direction.
Fixed Mirage's Winter Skin disappearing when Eclipse is activated.
Fixed enemies aiming at Hall of Mirrors aiming behind themselves, instead of at Mirage's image.
Fixed Mirage's HUD Eclipse Buff showing as going above 255% damage.
Mirage is now able to gain energy from Team Energy Restore items while her Prism Ability is toggled on.
Fixed visual effects on Mirage's Hall of Mirrors clones when using the Panthera.
Mirage's Hall of Malevolence Augment has been buffed to give each of Mirage's clones a damage increase of 5% per enemy killed, up to a total of 50% max clone damage. Previously this damage increase was based on unmodded weapon damage.
Mirage's Hall of Malevolence buff will now show as a % damage increase in the UI.
Fixed Mirage's Prism occasionally not be destroyed at the end of the cast.
Fixed Kohm creating particle effects on Mirage's clones when particle settings are not set to High in system settings.
Fixed Mirage's Eclipse Augment effects not working correctly when applied to other Warframes.
Fixed Silva and Aegis losing texture when used by Mirage during Hall of Mirrors.
Fixed Mirage's Prism never going away when cast outside of a Nullifier Crewman's bubble, just before stepping into the bubble before the throw animation is complete.
Fixed issue occasionally caused by Mirage's Hall of Mirrors.
Mirage: Eclipse: Total Eclipse: The effect applies to nearby allies within a 3/3/4/5 meter radius for 25%/50%/75%/100% effect.
Fixed crash that would occur when Mirage used Hall of Mirrors with a Torrid equipped as a client.
Fixed Mirage's Eclipse removing her festive holiday skin.
Fixed Mirage's Hall of Mirrors clones not animating if you are using a different frames Animation Stance.
Fixed issues with Mirage's Eclipse ability not correctly working with the Edo Chest armor.
Tweaked the arrow position for Mirage's Agile stance.
Limited the number of augment damage stacks that can be applied to Mirage's Hall of Mirror clones to 10.
Mirage: Hall of Mirrors: Hall of Malevolence: The damage of your doppelgängers is increased by %, every time you kill an enemy.
Fixed issues with the way the Foundry displays certain builds-in-progress, as seen with Mirage's Harlequin helmet.
Fixed Mirage's Hall of Mirror clones not throwing Glaives if you're the Client.
Fixed Mirage's Hall of Mirror clones turning and throwing the Glaive in the wrong direction when you have it equipped as the host.
Fixed an issue where players may not receive the first Inbox message for the Mirage Quest.
Fixed an issue with the Harlequin Mirage Helmet Blueprint incorrectly appearing as the Arcane Scorpion *Ash Helmet Blueprint. Please note that we will be re-running a functioning Harlequin Helmet alert at a similar time as the broken one, but with a doubled duration.
Fixed Mirage's Prism lasers not targeting Orokin Drones.
Fixed Mirage's Prism saying it used 100 power to activate when it only uses 50.
Fixed cases of Mirage's Prism lasting forever/not using any energy, and being able to launch a second Prism.
Fixed Mirage's Prism prematurely detonating if it hits a defense target.
Fixed Corpus security cameras sometimes being blind to a Mirage with Eclipse active.
Fixed issues with the Mirage Codex/Quest diorama having the wrong or conflicting Warframe presented.
Added in missing idle animations for Loki, Mirage, and Nova (noble). When inactive for a few seconds, each of these frames will now have idles!
Fixed issue with enemy AI freezing when trying to 'pull' a Mirage Hall of Mirror clone.
Further improved the aiming of Mirage's Prism projectile.
Improved the performance of Mirage's Prism and Nova's Wormhole ability.
Fixed Mirage's Prism not being properly castable by AI.
Improved the aiming direction of Mirage's Prism ability.
Changed Mirage Alt Helm to be untradable.
Fixed Mirage's Eclipse lasting forever when cast.
Changed FX of Laser Doors when affected by Mirage's abilities to better indicate you're safe to run through.
Fixed Mirage's Hall of Mirrors not being affected by some mods (Heavy Caliber).
Fixed an issue with Mirage's Eclipse damage bonus not applying to all damage types (like Penta explosion).
Fixed a number of animation issues seen with Mirage's agile and noble idle animations.
Fixed issue with progression on the Mirage 'Hidden Messages' quest if you already crafted the Chassis or already own a completed Mirage.
Fixed an issue with the Mirage's Prism visuals persisting in the game world if the ability was casted repeatedly (spammed).
Fixed an issue with the Illiac Chest piece clipping into Ember, Nyx, and Mirage frames.
Included a max number of instances for explosions available with Mirage's Sleight of Hand ability.
Improved the performance of Mirage's Prism ability on lower end computers.
Performance Improvements for Mirage + Hall of Mirrors and Angstrum, Ogris, Penta, and Mutalist Quanta, and Stug.
Improved performance on Mirage's Prism when Particle Quality is set to low.
Fixed Mirage Hall of Mirror 'illusions' doing friendly damage in dojo duels, and possibly other places as well.
Fixed cases of Mirage's Hall of Mirrors Friendly Fire caused by temporary radiation induced faction change.
Fixed Mirage quest mid-point not sending transmissions to continue finding the parts.
Altered the range of the visual effect of Mirage's Sleight of Hand ability.
Reduced the amount of projectile visual effects seen when using specific weapons in conjunction with Mirage's Hall of Mirror clones.
Fixed a number of power in use and loss of functionality issues related to Mirage's Sleight of Hand ability.
Introduced via Hidden Messages quest.
Ad blocker interference detected!
Wikia is a free-to-use site that makes money from advertising. We have a modified experience for viewers using ad blockers

Wikia is not accessible if you've made further modifications. Remove the custom ad blocker rule(s) and the page will load as expected.