Release Date: July 18, 2014
Mysterious and mischievous, Mirage manipulates the spectrum of light to dazzle her foes. With deceitful mirror images, colorful photokinetic displays and explosive pranks up her sleeves, every battlefield becomes the stage for her next performance. Mirage was unveiled in Update 14.0. 
Component blueprints are awarded at the end of each mission for the Hidden Messages quest. The previously awarded component must be built to obtain the next components.
Warframe Guides
Edit
"I am the Lotus. I will guide you, but we must hurry."

Guides are created by users like you. They aren't as strictly regulated as most pages, so keep an eye out for dated or subjective information.

Have your own build and playstyle? You can contribute too! Instructions are within.
See Category:Mirage Guides to read user-made guides on how to play this Warframe.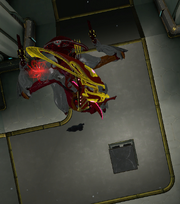 In the game Mirage first appeared on the fire damage/status chance mods rewarded from the Operation Breeding Grounds event, shown with the new Sybaris and Pyrana.
Her second appearance is in a teaser trailer revealed on day 5 on www.theliset.com, the teaser site for Update 14.
Details of one of Mirage's abilities, internally named the "Comedy of Errors", (now named Sleight Of Hand and is her second ability) were leaked in Devstream 31. 
Mirage's design aesthetic is based on the harlequin, and has an alternate helmet named so.

Both helmet designs also have elements inspired by the cuttlefish, particularly the body of the default helmet and the face of the alternate. Cuttlefish have been the subject of much recent study for their ability to perceive polarized light and to produce complex shifting patterns on their skin.

Mirage's third ability, Eclipse, has visual effects that evoke the phrase smoke and mirrors. Many tricks of stage magic and illusion are performed with the aid of special mirrors, lighting and distracting bursts of smoke, hence the idiom "It's all done with smoke and mirrors." The phrase has entered wider usage to refer to other sorts of fraud and deception, especially when hidden by some flashy display.
She is the third frame with an ultimate power that toggles and does not cost 100 energy to cast, the others being Nyx, Banshee, Mesa, Chroma and Equinox.

Prism is the first ability to have both a toggle and a maximum duration.

Barring Prime variants, Mirage is the 20th Warframe released.
Mirage is the first Warframe that can be obtained through a quest.
Mirage was a Warframe used in the Sentient war that occurred before the events of the game.
Ad blocker interference detected!
Wikia is a free-to-use site that makes money from advertising. We have a modified experience for viewers using ad blockers

Wikia is not accessible if you've made further modifications. Remove the custom ad blocker rule(s) and the page will load as expected.