Miter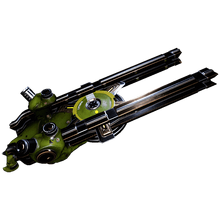 Statistics
| | |
| --- | --- |
| Weapon Type | Blade Launcher |
Utility
Normal Attacks
Charge Attacks
Miscellaneous
The Miter launches high velocity saw blades, tearing apart anyone unfortunate enough to be in their path.
The Miter is a saw blade launcher used by Grineer Eviscerators. The disc must be charged in order to deal maximum damage. However, weaker uncharged shots can be fired in rapid succession as well.
This weapon can be sold for
7,500, it is also a requisite ingredient for Panthera.
Manufacturing Requirements

15,000
Miter Barrel
1
Miter Blade
1
Miter Chassis
1
Miter Handle
1
Time: 12 hrs
Rush: 50
Market Price: 225
Blueprint Price: N/A
All parts and the blueprint drop only on Phobos, Iliad from the dual boss team Lech Kril and Captain Vor.
Characteristics
Edit
This weapon deals primarily

Slash damage.
Advantages:
Disadvantages:
Weapon Loadouts
Edit