Mobile Defense Missions require players to carry a datamass, similar to Deception, to 2 - 7 computer terminals and upload it to them. Once uploaded at each terminal, players will have to defend the terminal until hacking is completed. Unlike normal Defense missions, these require players to defend for a set period of time instead of a set amount of waves. Mobile Defense missions also take place within the normal map sets, though some tilesets will have special tiles exclusive to Mobile Defense.
Variations
Mobile Defense missions taking place within the Grineer Asteroid tileset will always feature an additional objective after two terminals have been defended, where players will be tasked with guarding a Warframe Cryopod from attack after retrieving it from a tram.
Mobile Defense Missions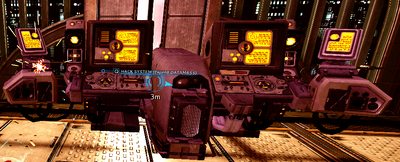 In addition to the above, Solar Rail Sabotage missions on Dark Sectors also feature this mission mode.
Media