Modules (Mods) (ver: 2.0) are cards that can be equipped to Warframes, weapons, sentinels, Kubrows, and Archwings to enhance damage, power, survivability, speed, precepts, and utility. Mods can grant Passive Powers, Active Powers, Sentinel Precepts, and Utilities. Mods can be changed between items. There are around 459 mods existing in the game.
Acquisition
Building or purchasing companions will provide a mod for each of their unique 2 precepts (companions).
Survival, Spy and Capture Missions offer a mod, blueprint, or credits as a mission reward on completion.
Every 5 waves of Defense missions will offer you a reward chosen randomly from a faction specific drop table.
Dispatching enemies.

Higher level enemies do not have a higher drop rate.
All mods picked up from enemy drops are the same for every player.
Every enemy type has its own small drop table of mods. This information can be found in the mods' pages.

Mods can be obtained from the Orokin Void canisters and more commonly from treasure room canisters.

Mod drops but canister mods will disappear.

Mod Transmutation can fuse 4 selected unranked mods to create a random mod.

There is only one mod that drops only through Transmutation: Shield Flux.

Some mods can only be obtained through completing special missions such as Alerts, Nightmare Mode and Orokin Derelict. More details can be found below.
Purchasing Mod Packs from the market.
Archwing mods are dropped in the Archwing missions.
Attributes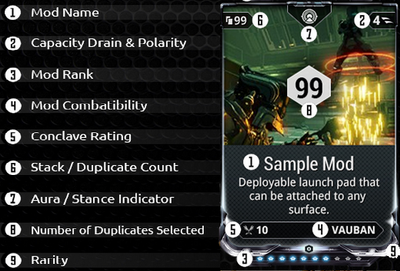 Mods have 9 attributes: (place on card)
Mod Name: The name of the mod
Capacity Drain & Polarity: The point cost that the mod will drain and the polarity of the mod
Mod Rank: The upgrade level of the mod
Mod Compatibility: What the mod can be equipped on
Stack/Duplicate Count: How many of that mod you have of that mod rank
Number Of Duplicates Selected: used when telling the user how many of that mod are being used in Fusion or for selling
Rarity: Denotes how rare the card is, by what color the card casing is (Bronze for common, Silver for uncommon, Gold for rare, White for legendary)
Type
Mods can only be attached to their indicated type of item. They may be generally applicable to weapons, Warframes, or companions (i.e. "Warframe Mod") or specific to their respective class (i.e. "Trinity Mod"). The type is listed in the top left of the description of the mod.
Mod Rarity
Mods vary in rarity as indicated by the border color.
| | | | |
| --- | --- | --- | --- |
| | | | |
| Common | Uncommon | Rare | Legendary |
Mod Capacity
Warframes, companions, and weapons have a limited capacity for Mods equal to their Rank(Max 30). Warframes/Companions and Weapons can be supercharged with an Orokin Reactor or Orokin Catalyst which doubles the available Mod capacity. Mod Capacity functions as a limit to what mods can be equipped depending on their drain.
Companions have 10 slots for mods. Warframes, weapons and sentinel weapons have 8 slots.
Aura mods for Warframes increase Mod Capacity rather than drain it. This can be from an additional 1 to 18 Mod Capacity.
Polarity
Some slots are "polarized." Each type of Polarization has a unique associated symbol. Putting mods of the correct polarization into a polarized slot will lower the mod capacity used (rounded up) by 50%. Conversely equipping mods of the different polarization into a polarized slot will increase mod capacity drain by a quarter of the starting cost of mod, rounded mathematically.
Mod Rank
Mods have levels ranging from 0 to as high as 10 (typically 3-5). When the level of a mod is greater than zero, it is indicated by blue dots on the bottom of the card.
Each rank requires twice the mod energy than the previous rank to level up and leveling up from rank 0 to 1 sets the base amount of mod energy for this calculation.
See Fusion.
Conclave Score
Conclave is a special player versus player (or PvP) mode that pits one player against another in specialized arenas. Each mod, weapon, sentinel, or Warframe is calculated through a Conclave score system. Mods that deal damage for example, such as Hornet Strike will make the weapon more powerful, thus requires more points to equip than Trick Mag which gives you more ammo. Conclave arenas are blocked by specific point requirements, to make it more of a fair fight between Tenno. If your build has a total of 1,000 conclave, for example, you cannot join a conclave map with a requirement of 400 maximum, and must choose a higher tier. 
Mod Rating
Each Tenno's mod collection has an overall rating, which is visible in the upper-right corner of the Mod Collection screen. All mods contribute certain amounts of points toward one's overall mod collection rating. The points a mod gives are determined by rarity and rank, and otherwise are the same from mod to mod; fusion cores follow similar rules, but have their own quantities of rating points.
Mod Rank
Common
Uncommon
Rare
Legendary
0
1
2
4
1
4
8
16
2
16
32
64
3
64
128
256
4
256
512
1024
5
1024
2048
4096
6
4096
8192
16384
7
16384
32768
65536
8
65536
131072
262144
9
262144
524288
1048576
10
1048576
2097152
4194304
| Fusion Core Rank |     Common |   Uncommon | Rare |
| --- | --- | --- | --- |
| 0 | 1 | 2 | 4 |
| 1 | √2 (1.41*) | 2√2 (2.83*) | 4√2 (5.66*) |
| 2 | 2 | 4 | 8 |
| 3 | 2√2 (2.83*) | 4√2 (5.66*) | 8√2 (11.31*) |
| 4 | | 8 | 16 |
| 5 | | 8√2 (11.31*) | 16√2 (22.63*) |
Since √2 is irrational, the decimal values listed are approximations, listed for reference only. Due to using irrational numbers in these calculations, rounding inconsistencies can introduce variance when calculating total mod ranking, but it should always be within +/- 1 of the correct value.
Mod Stacking And Selling

Introduced in Update 12, mods of the same type and fusion level will combine into essentially a mod stack, with a number on the top left showing how many of that card is available. This process is essential in reducing clutter and is also used to ease the process of selling mods.
When selling a mod, you can either select one or a pack, and click "sell". This will sell one mod, and not all mods included in a stack. If you wish to sell more than one of the mods in the stack, click the "Sell" button before clicking on a set of mods. This will open up the menu (shown below) which will allow you to select the number of mods you wish to sell, including a "Sell All" option which will sell the entire stack. 
This stacking system also plays a role in Fusion. When fusing a mod and then selecting a stack of cores or mods, the number available is how many of that card you need to level up the mod, or the entire stack if you require more. For example, if you are leveling up a mod using fusion cores, and you have 50 cores of that type, it may say "15 Available" on the menu, meaning it will take 15 of those cores to get the mod to max rank. Since this deals with max ranking however, you have to do some guessing or math to figure out how many you need to get to a specific level.
Installing Mods
To install mods on an item, drag a mod from the collection and drop it on a Mod slot. If the Mod Capacity drain is less or equal to the item's remaining Mod Capacity it will install and Mod Capacity will be deducted. Drain can be modified by polarities:
Matching polarity reduces drain: (e.g.Rhino Stomp costs 10, but dropped into Power polarized slot costs only 5)
Differing polarity increases drain by a quarter, rounded mathematically: mod levels 0-1 add 0, mods 2-5 add 1, mods 6-9 add 2, mods 10-13 add 3, mods 14-16 add 4...
Bonus Stacking
To prevent exponential bonus stacking, players can't put duplicate mods in a single piece of equipment. For example, a given pistol can only have one Hornet Strike mod in it at a time. However, a dual stat mod can be applied at the same time as a mod that gives one of its stats.  For instance, Vitality and Vigor can both be applied to same Warframe, while Vitality increases Maximum Health, and Vigor increases Maximum Health and Shield Capacity.
For mods increasing shield, health or power, bonuses are calculated from the Warframe's base value. This prevents exponential increases with the passive leveling bonuses introduced in Update 7.6.
Mods increasing damage or adding special damage types do not conflict with each other and may be stacked to increase the overall damage output. However each two elemental mods will be added up into a Combined Element, with different damage multipliers against certain enemies.
Fusion
Mods can have their overall power increased by the process called Fusion. This takes mods or Fusion Cores and combines them together to increase the overall power of a Mod.
Special Mods
Types of mods that cannot be acquired through normal means are listed below:
Aura Mods
Aura Mods are special mods that benefit the entire Cell and also increase the player's Warframe total mod capacity.
Stance Mods
Stance Mods are special mods for Melee Weapons. They increase the player's melee weapon mod capacity and unlock unique attack combos.
Nightmare Mode Mods
Nightmare Mode Mods are essentially mods with dual stats. They can only be acquired through completing missions in Nightmare Mode.
Corrupted Mods
Corrupted mods can be obtained from the Orokin Derelict, using special Dragon Keys to unlock vaults located within. These mods have dual stats, one being a bonus, the other being a various negative side effect.
Augment Mods
Augment Mods are Syndicate Offerings that provide augmentation to a specific Warframe or weapon.
Damaged Mods
Damaged mods are weaker versions of various normal mods that are automatically picked up during the course of the Vor's Prize quest missions.
Mod List
Name
Description
Sentinel
Polarity
Rarity
Coolant Leak
Sentinel generates a small freeze aura which slows incoming enemies
Any
Rare
Crowd Dispersion
The Sentinel unleashes a radial stun and knockdown when targets get close
Wyrm
Common
Fast Deflection

Increases

shield recharge rate of the Sentinel
Any
Uncommon
Fatal Attraction
The Sentinel pulls enemies towards the user
Djinn
Common
Fired Up

Increases

weapon damage of Sentinel in recurrent attacks
Any
Rare
Ghost
The Sentinel cloaks its owner when enemies are close
Shade
Common
Guardian
The Sentinel automatically restores some of its owner's shields when they are reduced to zero
Any
Common
Investigator
The Sentinel will automatically scan enemies and objects to add to the Codex
Helios
Common
Redirection

Increases

maximum shield of the Sentinel
Any
Common
Regen
The Sentinel will regenerate once if he is killed
Any
Common
Revenge
The Sentinel will attack the enemy which attacked its owner
Shade
Common
Sacrifice
The Sentinel will revive its owner at the cost of its own life
Any
Rare
Sanctuary
Provides a shield when its owner is reviving an ally
Any
Rare
Spare Parts
The Sentinel has a chance to drop a rare material upon death
Any
Uncommon
Self Destruct
The Sentinel explodes upon death, dealing

Blast

damage to nearby enemies
Any
Rare
Steel Fiber

Increases

armor of the Sentinel
Any
Common
Striker
The Sentinel will attack the first visible enemy in range
Carrier
Common
Swift Deth
The Sentinel will attack the first visible enemy in range
Dethcube
Common
Targeting Receptor
The Sentinel will attack the first visible enemy in range
Helios
Common
Thumper
The Sentinel will attack the first visible enemy in range
Djinn
Common
Vacuum
The Sentinel pulls items to his owner within a certain range
Carrier
Common
Vaporize
The Sentinel will fire a powerful beam at close enemies, dealing high damage and stunning those that survive
Dethcube
Common
Vitality

Increases

maximum health of the Sentinel
Any
Common
Warrior
The Sentinel will attack the first visible enemy in range
Wyrm
Common
Name
Description
Kubrow
Polarity
Rarity
Bite

Increases

Critical Chance and Critical Damage
Any
Rare
Dig
The Kubrow digs up ammunition and health orbs
Sahasa
Rare
Fast Deflection (Kubrow)

Increases

shield recharge rate of the Kubrow
Any
Uncommon
Ferocity
Enables finisher attacks and

increases

finisher damage of the Kubrow
Sahasa
Rare
Howl
The Kubrow strikes fear into enemies
Raksa
Rare
Hunt
The Kubrow tackles opponents
Huras
Rare
Link Armor

Shares

maximum armor of the player's Warframe with the Kubrow
Any
Uncommon
Link Health

Shares

maximum health of the player's Warframe with the Kubrow
Any
Uncommon
Link Shields

Shares

maximum shields of the player's Warframe with the Kubrow
Any
Uncommon
Loyal Companion

Shares

maximum bleedout rate of the player's Warframe with the Kubrow
Any
Common
Maul

Increases

melee damage
Any
Uncommon
Pack Leader
Transfers life steal from player's melee attacks to the Kubrow
Any
Common
Protect
The Kubrow automatically restores some of its owner's shields when they are not at full capacity
Raksa
Rare
Savagery
Enables finisher attacks and

increases

finisher damage of the Kubrow
Sunika
Rare
Scavenge

Increases

chance to open lockers
Any
Common
Stalk
The Kubrow cloaks its owner when enemies are close
Huras
Rare
Unleashed
The Kubrow grapples VIP targets
Sunika
Rare
Name
Description
Polarity
Rarity
Corrosive Projection

Reduces

enemy armor
Uncommon
Dead Eye

Increases

sniper rifle damage
Uncommon
Energy Siphon
Provides constant energy regeneration
Uncommon
Enemy Radar
Pinpoints enemy locations on mini-map
Uncommon
Infested Impedance

Reduces

speed of nearby Infested units
Uncommon
Loot Detector
Displays location of containers and resources on minimap and makes modifications visible through walls
Uncommon
Physique

Increases

maximum health
Uncommon
Pistol Scavenger

Increases

ammo recovery for pistols
Uncommon
Rejuvenation
Provides constant health regeneration
Uncommon
Rifle Amp

Increases

assault rifle damage
Uncommon
Rifle Scavenger

Increases

ammo recovery for assault rifles
Uncommon
Shield Disruption

Reduces

enemy shields
Uncommon
Shotgun Scavenger

Increases

ammo recovery for shotguns
Uncommon
Sniper Scavenger

Increases

ammo recovery for sniper rifles
Uncommon
Speed Holster

Increases

weapon switch speed
Uncommon
Sprint Boost

Increases

sprinting speed
Uncommon
Steel Charge

Increases

melee weapon damage
Uncommon
| Name | Description | Weapon Type | Polarity | Rarity |
| --- | --- | --- | --- | --- |
| Bleeding Willow | A blend of strong and rapid strikes with leaping combos. | Polearms | | Rare |
| Blind Justice | Reverse grip style emphasizing slashing and impaling strikes | Nikanas | | Uncommon |
| Brutal Tide | Round-house attacks and leaping fists | Sparring | | Rare |
| Burning Wasp | Chaining combos. | Whips | | Uncommon |
| Clashing Forest | Arcing strikes and focused combos. | Staves | | Uncommon |
| Cleaving Whirlwind | Arcing cuts with spinning finish. | Heavy Swords/Axes | | Rare |
| Coiling Viper | Powerful arcing strikes with energetic flips. | Whips | | Rare |
| Crimson Dervish | Strong whirlwind attacks | Swords | | Rare |
| Crossing Snakes | Multi-angle strikes and deadly thrust attacks. | Dual Swords | | Rare |
| Crushing Ruin | Arial attacks with crowd control combos. | Hammers | | Rare |
| Decisive Judgement | Fierce, double-handed strikes | Nikanas | | Rare |
| Eleventh Storm | Rapid attacks | Sword and Shield | | Uncommon |
| Flailing Branch | Lifting Strikes and whirlwind combos. | Staves | | Rare |
| Fracturing Wind | Fast attacks and high finishing attack damage. | Fists | | Uncommon |
| Gemini Cross | A style exhibiting sweeping slash attacks and swift jabs. | Tonfas | | Uncommon |
| Gleaming Talon | Fast arcing strikes. | Glaives | | Rare |
| Gnashing Payara | Lunging punctures with impaling spirals. | Dual Daggers | | Rare |
| Grim Fury | Lightning fast hit chains and hard hitting combos. | Sparring | | Uncommon |
| Homing Fang | Fast strikes, many hits. | Daggers | | Uncommon |
| Iron Phoenix | Fast cutting attacks with punctures finish. | Swords | | Rare |
| Malicious Raptor | Puncturing strikes and quick slashes. | Claws | | Rare |
| Pointed Wind | Spiral strikes, lifting combos. | Daggers | | Rare |
| Reaping Spiral | Far flung attacks and multi-hit combos | Scythes | | Uncommon |
| Rending Crane | Downward cuts with an impact combo. | Heavy Swords/Axes | | Uncommon |
| Seismic Palm | Methodical strikes with reaching combos. | Fists | | Rare |
| Shattering Storm | Methodical strikes and high impact combos. | Hammers | | Uncommon |
| Sinking Talon | Strong, focused attacks with multi-hit spins. | Dual Daggers | | Uncommon |
| Stalking Fan | Lunging spirals and shattering combos. | Scythes | | Rare |
| Shimmering Blight | Fast spinning attacks and staggering strikes. | Polearms | | Uncommon |
| Sundering Weave | Steady chopping strikes with focused damage. | Machetes | | Uncommon |
| Swirling Tiger | Fanning, multi-hit strikes. | Dual Swords | | Uncommon |
| Tranquil Cleave | Powerful arcs with frenzied combo. | Nikanas | | Rare |
Archwing Mod List
Syndicate Offering Mod List
Name
Description
Warframe
Polarity
Rarity
Curative Undertow
Undertow heals allies.
Hydroid
Rare
Divebomb Vortex
Dive Bomb creates a vortex on impact.
Zephyr
Rare
Fireball Frenzy
Fireball grants allies bonus

Heat

damage.
Ember
Rare
Freeze Force
Freeze grants allies bonus

Cold

damage.
Frost
Rare
Furious Javelin
Radial Javelin hits grant bonus melee damage with each hit.
Excalibur
Rare
Greedy Pull
Pull attracts pickups.
Mag
Rare
Hall of Malevolence
Doppelgangers from Hall of Mirrors gain bonus damage for each kill.
Mirage
Rare
Haven
Banish heals allies.
Limbo
Rare
Ironclad Charge
Rhino Charge increases armor with each hit.
Rhino
Rare
Neutron Star
Recasting Null Star detonates remaining particles.
Nova
Rare
Pacifying Bolts
Psychic Bolts temporarily disarm targets.
Nyx
Rare
Pool of Life
Well Of Life targets drop health and energy orbs on death.
Trinity
Rare
Prolonged Paralysis
Paralysis pulls targets and stuns them longer.
Valkyr
Rare
Safeguard Switch
Switch Teleport targeting allies makes them temporarily invulnerable.
Loki
Rare
Savage Silence
Silence increases finisher damage.
Banshee
Rare
Shock Trooper
Shock grants allies bonus

Electric

damage.
Volt
Rare
Smite Infusion
Smite grants allies bonus

Radiation

damage.
Oberon
Rare
Smoke Shadow
Smoke Screen stealths allies briefly.
Ash
Rare
Soul Survivor
Soul Punch revives a targeted ally.
Nekros
Rare
Tesla Link
Tesla grenades linked by damaging arcs of electricity.
Vauban
Rare
Venom Dose
Venom grants allies bonus

Toxin

damage.
Saryn
Rare
Name
Description
Weapon
Polarity
Syndicate
Blade of Truth
Increases Melee Damage and Truth.
Jaw Sword
Arbiters of Hexis
Bright Purity
Increases Melee Damage and Purity.
Skana
New Loka
Deadly Sequence
Increases Critical Chance and Sequence.
Grinlok
The Perrin Sequence
Entropy Burst
Increases Status Chance and Entropy.
Supra
Cephalon Suda
Entropy Flight
Increases Flight Speed and Entropy.
Kestrel
Cephalon Suda
Entropy Spike
Adds Explosion Chance and Entropy.
Bolto
Cephalon Suda
Eroding Blight
Increases Magazine Capacity and Blight.
Embolist
Red Veil
Gilded Truth
Increases Fire Rate and Truth.
Burston Prime
Arbiters of Hexis
Gleaming Blight
Increases Status Chance and Blight.
Dark Dagger
Red Veil
Justice Blades
Increases Melee Damage and Justice.
Dual Cleavers
Steel Meridian
Lasting Purity
Adds Dead Aim and Purity.
Vulkar
New Loka
Scattered Justice
Adds Multishot and Justice.
Hek
Steel Meridian
Sequence Burn
Increases Range and Sequence.
Spectra
The Perrin Sequence
Shattering Justice
Increases Status Chance and Justice.
Sobek
Steel Meridian
Stinging Truth
Increases Magazine Capacity and Truth.
Viper
Arbiters of Hexis
Toxic Blight
Increases

Toxin

Damage and Blight.
Mire
Red Veil
Toxic Sequence
Increases Status Duration and Sequence.
Acrid
The Perrin Sequence
Winds of Purity
Adds Life Steal and Purity.
Furis
New Loka
Notes
Mods dropped on the ground will display a visual effect where white specks of energy converge on its position, making the mod more visible. If two or more players are in a mission, this visual effect will remain in place as long as any player has not collected the mod, and will only disappear if all players have picked up the mod. The visual effect itself can be marked using a waypoint to inform other players of a mod's position, even if the player placing the waypoint has already picked up the mod.

Rare mods project a stronger, yellow-gold effect with a clear column of golden energy projecting into the air. Similarly, the orbs for components and blueprints dropped by special enemies create a distinctive purple energy column.

The drop rate of the mods are estimated between 0.02-0.04%.