Neutralizing Justice gives each Miter blade a chance to instantly destroy a Nullifier's bubble. It also adds a Justice effect.
| Rank | Chance | Justice | Cost |
| --- | --- | --- | --- |
| 0 | 22.5% | +0.25 | 4 |
| 1 | 45% | +0.5 | 5 |
| 2 | 67.5% | +0.75 | 6 |
| 3 | 90% | +1 | 7 |
Acquisition
Edit
Miter blades from both normal and charged attacks have a chance to instantly pop a Nullifier bubble.
The augment actually destroys the floating shield generator that powers the Nullifier bubble no matter where you hit it, meaning the bubble is permanently disabled on the target enemy.
Multiple blades resulting from Multishot will continue their flight paths as they collide with a Nullifier bubble, provided that one blade procs its chance to destroy the bubble, allowing the other blade to fly through. Otherwise, both blades will bounce off the bubble.
Appears to also work on the ice shields of Arctic Eximi (further testing required).
It does not work on the green nullifier grenades launched by the Isolator Bursa.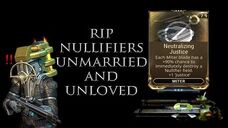 Patch History
Edit
"Ah, have you come to make a donation to my newest 'enterprise'...?"

Patch history is needed. Click here for instructions.
Ad blocker interference detected!
Wikia is a free-to-use site that makes money from advertising. We have a modified experience for viewers using ad blockers

Wikia is not accessible if you've made further modifications. Remove the custom ad blocker rule(s) and the page will load as expected.