Release Date: December 22, 2016
Epitome of the endlessly evolving Infestation, Nidus bends the vile corruption to his will, mutates his genetic potency to adapt and assimilates his victims with an insatiable parasitic hunger. Nidus and his strain developed in Update 19.5.
Manufacturing Requirements

25,000

1

1

1

2,000
Time: 72 hrs
Rush: 50
Market Price: 225
Blueprint Price: N/A
Neuroptics

15,000

10

1,000

2,600

3
Time: 12 hrs
Rush: 25
Chassis

15,000

6,000

1,400

5,000

3
Time: 12 hrs
Rush: 25
Systems

15,000

6,000

3,500

14

6
Time: 12 hrs
Rush: 25
Acquisition
Edit
Nidus' main blueprint is acquired from The Glast Gambit quest. Nidus' component blueprints are acquired from Rotation C of Infested Salvage (Oestrus, Eris). 
Drop
Expected Num. Runs
99% - 99.99%
Chassis Blueprint (14.29%)
12–13
52 ± 15
Neuroptics Blueprint (14.29%)
Systems Blueprint (14.29%)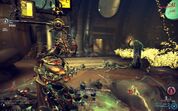 As Nidus has no shields, any Hijack objective will drain his health instead in order to move.
However, there are benefits with Nidus and his lack of shields, such as:
Alternatively, max energy increasing mods like Flow are less useful due to his third and fourth abilities not using energy.
Nidus has the unique passive ability to infect other players both in combat and in a Clan Dojo with the "Helminth Virus" acquired from the Infested Room onboard the Orbiter. Nidus is the only Warframe that can be used to open the Infested Room without having a fully matured cyst.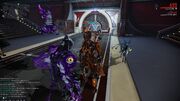 The word nidus (Latin root: "nest") is defined as the site of origin for disease or bacteria, or a place where bacteria multiplies.
Nidus is the first Warframe to use Kuva as a Blueprint ingredient.
Nidus is the second Warframe after Inaros to have no base shields whatsoever.
Nidus is also the first Warframe to use another type of ability resource besides energy, in the form of Mutation stacks.
Nidus is the first and only Warframe to innately regenerate Health.
Nidus is the first frame to have extra stat bonuses when leveling up.
The screech of Nidus' fourth ability was done by Digital Extremes sound designer, Willem Schonken. [1]
Reference
Edit