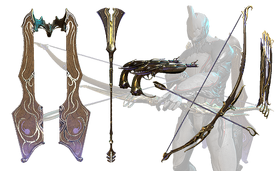 The Ormolu Skin Bundle includes the following items, with individual prices listed:
These skins can be recolored.
Currently the Ormolu Kyroptera Syandana is exclusive to this bundle and cannot be bought separately.
Ormolu is an 18th-century technique of applying a mixture of mercury and finely ground gold to a bronze object, with the intent of leaving a fine coating of gold by burning off the mercury in a kiln.
Kyroptera is derived from the word Chiroptera, an order of mammals primarily consisting of bats.
Patch History
Edit
"Ah, have you come to make a donation to my newest 'enterprise'...?"

Patch history is needed. Click here for instructions.
Ad blocker interference detected!
Wikia is a free-to-use site that makes money from advertising. We have a modified experience for viewers using ad blockers

Wikia is not accessible if you've made further modifications. Remove the custom ad blocker rule(s) and the page will load as expected.