Orokin Catalyst


Statistics
Type
Crafted / Purchased
Orokin modification technology used to super-charge weaponry.

–In-Game Description
An item used to supercharge Weapons, doubling their mod capacity. Orokin Catalyst cannot be re-used or removed from one weapon to place in another weapon.
Acquisition
Edit
They can either be bought for
20 or assembled in the Foundry after finding its respective blueprint. These blueprints can be obtained one of two ways:
From alert missions.
From third-tier login reward lottery system.
After being built, the blueprint disappears, requiring that it must be obtained again to build another Orokin Catalyst.
Applying Orokin Catalyst to weapons
Edit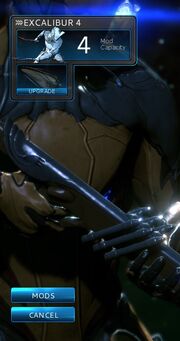 To apply an Orokin Catalyst after purchasing it, click Arsenal and equip the desired weapon. Select Configure upgrade artifacts underneath the weapon, and click the UPGRADE button in the upper-left corner. It can also be applied to Sentinels' weapons by equipping and navigating to them instead.
How it works
Edit
An applied Orokin Catalyst will double the mod capacity of a weapon. This increases the total power that can be consumed by mods, but not the number of mod slots. A rank 1 weapon with a Catalyst installed will have a capacity of 2, which will increase to 60 at rank 30. Unlike Formas, Catalysts can only be applied to a weapon once.
It does not matter when the Catalyst is installed; the capacity of a weapon with a Catalyst installed will always be double its rank.
Orokin Catalysts are often referred to by players as 'blue potatoes' (as opposed to Orokin Reactors, called  'golden potatoes'), or in some cases, simply 'potatoes.' This may have originated from the devs, who have occasionally referred to them as potatoes.