Orthos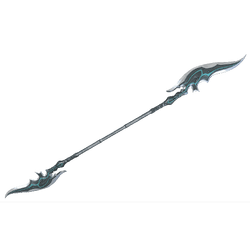 Statistics
Normal Attacks
Charge Attacks
Jump Attacks
Slam Attacks
Slide Attacks
Miscellaneous
The Tenno-forged ORTHOS is a rare double bladed staff. Those who take the time to master it speak of its impressive striking distance and ability to hit multiple targets.

–In-Game Description
This weapon can be sold for
5,000.
Characteristics
This weapon does blade damage and strikes in a wide arc, hitting multiple enemies.
Advantages
High charge damage.
Long range attacks with a wide radius.
Charge attack has large AoE and even hits a small area behind the player.
Hits up to 5 targets with AoE attacks.
Requires only a small amount of very common resources to craft.
Slide attacks have 100 damage and almost full AoE.
Large jump attack AOE.
Charge attacks can hit downed or crawling enemies.
Disadvantages
Has no Polarities.
When swinging you will be reduced to a walking pace (like all heavy melee weapons), starting on the third swing animation.
Normal attacks have awkwardly placed swing hitboxes which vary with each swing animation, making it more difficult to hit enemies.
Amongst the lowest base damage of all heavy melee weapons.
Acquisition
Orthos can be purchased for
180 and its blueprint for
20,000.
Weapon Loadouts
Main article: Category:Orthos Build
See the user build section for builds using this weapon.
Notes
The Orthos will extend slighty when drawn, and retract back after "sheathing".
Tips
Being the longest melee weapon (after Orthos Prime), the Orthos benifits greatly from Reach; a maxed out Reach will allow you to hit enemies through walls, bypass Grineer Shield Lancer's shields, and strike Toxic Ancients without touching the poison cloud.
Trivia
In Greek mythology, Orthos (also known as Orthrus) is the name of a two headed dog, brother of Cerberus.
See Also
Media