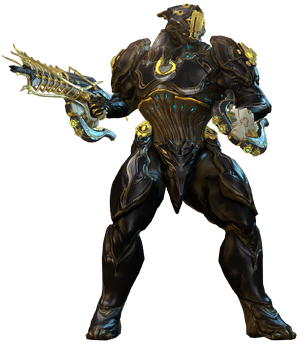 The term Prime refers to any Weapon, Warframe, Sentinel or Archwing made with Orokin technology. The weapons and Warframes the Tenno use are based on the Orokin's designs, but are not actually Orokin tech. Prime versions of items are actual pieces of Orokin technology[1], and frequently sport improved damage, more Polarity slots, or other stat changes that grant them an advantage over their non-Prime derivatives.
Current Tenno technology is derived from the Primes and other Orokin technology, as the Tenno have tried to imitate the success of the Orokin in the form of the non-Prime items. It is hinted that at some point, the Tenno were once capable of creating Primes on their own, producing the Boar and Dakra, however, such knowledge is now lost. With the discovery of the Void, many Prime items are being reclaimed by the Tenno and reverse-engineered by the Corpus and the Grineer, their power being realized once more.
Sentinel Weapon
Edit
Extractors
Edit
Cosmetics
Edit
Prime Related
Edit
While technically not Primes, these units and items implement Orokin technology.
References
Edit