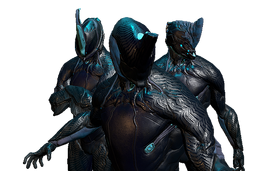 The Prisma Excalibur Bundle includes the following items, with individual prices listed:
Acquisition
Edit
The entire bundle is available in the Market for
‍ 235 under the Bundles section. Each helmet and the skin can also be bought individually in the Warframe Accessories section under Warframes.
Purchased individually, the skins in this bundle will cost ‍ 300 in total. Buying the bundle will save ‍ 65.
These are the first Prisma items made available in the Market, rather than through Baro Ki'Teer.
Ad blocker interference detected!
Wikia is a free-to-use site that makes money from advertising. We have a modified experience for viewers using ad blockers

Wikia is not accessible if you've made further modifications. Remove the custom ad blocker rule(s) and the page will load as expected.