Reaper Prime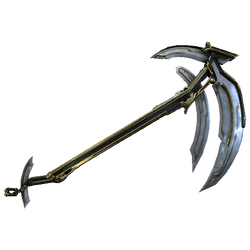 Statistics
Normal Attacks
Charge Attacks
Jump Attacks
Slam Attacks
Slide Attacks
Miscellaneous
REAPER PRIME is an ornamental scythe, with a blade forged from tempered rubidium.

–In-Game Description
The Reaper Prime was added into the game in Update 8 (before the actual Reaper was released).
This weapon can be sold for
5,000.
Characteristics
This weapon does mainly slash damage.
Advantages:
3x damage to non-Ancient Infested.
Charge attacks ignore armor.
Has large jump AoE (5 meters) and high jump attack damage.
100% Stagger.
Can hit multiple targets. 
Can stun-lock Ancients with maxed Fury mod.
Disadvantages: 
Requires ten Orokin Cells to craft.
Low charge damage when compared to other heavy melee weapons.
Has no Polarity slots.
Can only be obtained from the Orokin Void and is therefore difficult to acquire.
Normal attacks do not ignore armor.
Acquisition
Reaper Prime's blueprint and its components can be gathered from Orokin Void's mobile defense missions. See the drop table for more details.
Manufacturing Requirements

| Resource | Quantity |
| --- | --- |
| Reaper Blade | 1 |
| Reaper Handle | 1 |
| Orokin Cell | 10 |
|    Credits | 15,000 |
| Build Time | 12 Hours |
| Rush Build |  50 |
Weapon Loadouts
Main article: Category:Reaper Prime Build
See the user build section for builds using this weapon.
Notes
Slide attack does double base damage. (Affected by Pressure Point).
Ground finish attack does same damage as charged attack. (Deals physics impact damage+affected by Killing Blow).
Ground slam does 160% base damage at epicenter. (Serrated Blade damage).
Trivia
Reaper Prime was the first primed heavy melee melee weapon.
See Also
Media