"It's taking longer than I calculated."

This page is actively being worked on and may not be completely correct. Please assist in making this page accurate.
Research is the process of using materials to create interesting and unique weapons and items within the Clan Dojo. The Oracle Room must be built before any of the labs can be built and research can begin. Each lab room represents a separate area of research for different types of weapons and items. All projects will take 36-72 hours to research, as no project can be rushed for platinum. Once research is complete, Tenno will be able to purchase the Blueprints from the Respective Lab.
Research costs will vary, depending on the clan tier. Ghost, Shadow, Storm, Mountain, and Moon clans must contribute amounts scaled to their membership caps. Note that this is not always the case for some researches and may differ. Resources below are the lowest denomination, as seen in Ghost clans. For bigger clans, follow these multipliers:
Ghost: base requirement (not multiplied)
Shadow: 3 times
Storm: 10 times
Mountain: 30 times
Moon: 100 times
Quick Research Setup
Edit
The picture below shows the minimal setup to have all the buildings required for all the research possible as of Update 19. It still allows you to expand in the future, however if you only want a clan dojo for research this setup will cost you the least amount of resources.
The order to build should be:
Bottom cross connector
One reactor
Top cross connector
Oracle
Labs and cross connectors, when you run out of energy build the second reactor until you end up with the setup below.
The order of the labs is flexible, you can for instance switch between the Tenno Lab and Energy lab. It is also possible to first build the reactors and cross connectors and place the oracle at the top instead of one of the labs, which allows one more lab to be closer to the clan hall and the oracle to be further away.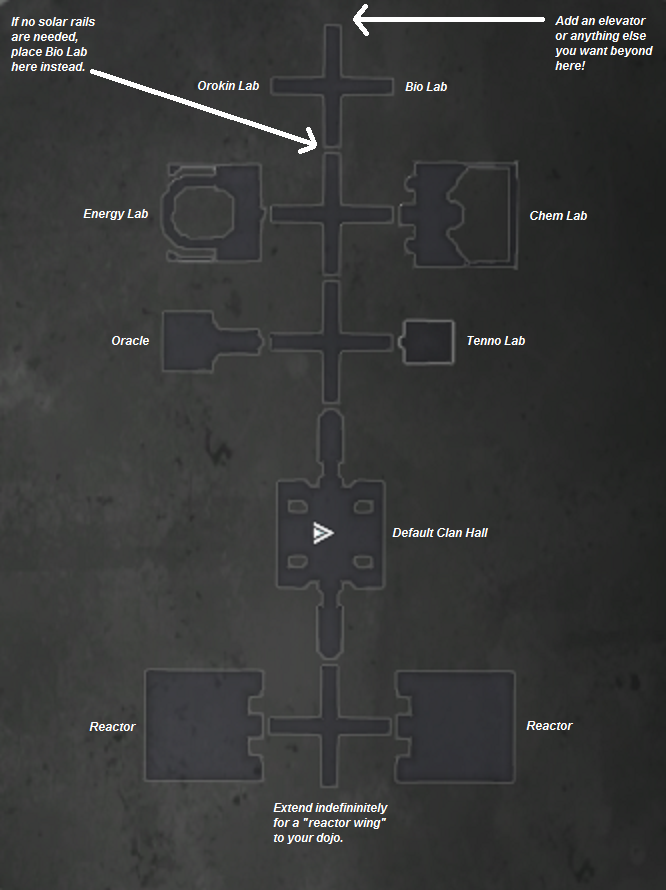 To setup the ability to research all projects you need the following:
Research is not lost when destroying a lab, and researched items will still be unlocked upon re-making the lab.
Each Lab has holograms or models of its respective faction's weapons except the Chemical lab contains the Acrid.
Ad blocker interference detected!
Wikia is a free-to-use site that makes money from advertising. We have a modified experience for viewers using ad blockers

Wikia is not accessible if you've made further modifications. Remove the custom ad blocker rule(s) and the page will load as expected.