ENERGY




75




KEY


3 

Sandstorm


Become a whirling spiral of sand that sends enemies flying and devours those trapped in quicksand.
Energy Drain: 10 s-1

Strength

:

200 / 300 / 400 / 500

Duration

:

N/A

Range

:

8 / 10 / 12 / 15 m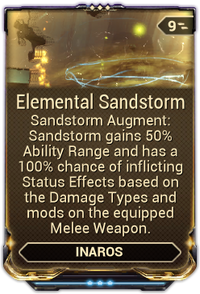 Main article: Elemental Sandstorm
Elemental Sandstorm is a Warframe Augment Mod for Inaros that causes Sandstorm to inflict status procs based on equipped damage types and mods on melee weapons currently wielded.
| Rank | Status chance | Cost |
| --- | --- | --- |
| 0 | 25% | 6 |
| 1 | 30% | 7 |
| 2 | 40% | 8 |
| 3 | 50% | 9 |
Maximization is a form of specialization: mods may be blended to result in values that vary between the top-end limits listed here. Click any maximized link to learn how to build it.
If a Commander teleports with an Inaros in Sandstorm, the Inaros will no longer spin. This is only a visual bug and does not affect movement speed.
The actual range is only half the listed amount. This may be a typo on the in-game skill description that DE has yet to address.
Ad blocker interference detected!
Wikia is a free-to-use site that makes money from advertising. We have a modified experience for viewers using ad blockers

Wikia is not accessible if you've made further modifications. Remove the custom ad blocker rule(s) and the page will load as expected.