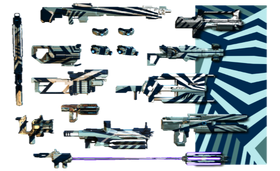 | | | |
| --- | --- | --- |
| Item Cost | ‍ 25 | Per skin |
| Bundle Price | ‍ 260 | For 13 skins |
| Bundle Savings | ‍ 65 | 20% |
The Shock Camo Pack includes the following skins:
These skins can be colorized.
The Prisma Tetra's magazines are unaffected by its Shock Camo skin.[

citation needed

]
Currently, the individual skins for Lanka and Cestras are not placed in their correct Market locations (e.g. 'Primary Skins', 'Secondary Skins'). Rather, they can be found under the 'Bundles' section beside the "Shock" bundle itself.
Despite their description, these skins are purely cosmetic, and will not affect an enemy's "optical processing".
Patch History
Edit
"Ah, have you come to make a donation to my newest 'enterprise'...?"

Patch history is needed. Click here for instructions.
Ad blocker interference detected!
Wikia is a free-to-use site that makes money from advertising. We have a modified experience for viewers using ad blockers

Wikia is not accessible if you've made further modifications. Remove the custom ad blocker rule(s) and the page will load as expected.