Skana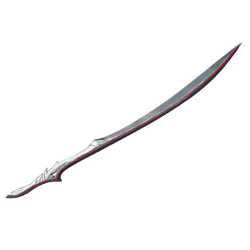 Statistics
Normal Attacks
Charge Attacks
Jump Attacks
Slam Attacks
Slide Attacks
Before all other weapons, Tenno master the Skana. This simple blade becomes immensely powerful in the hands of a master. For Tenno, it is the foundation of their fighting style and a pillar of their culture.

–In-game Description
The Skana is the default starting weapon of all players.
Can be sold for
5,000.
Characteristics
This weapon deals Blade damage.
Advantages
Has innate stun/stagger.
Deals 3x damage to non-Ancient Infested.
Disadvantages
Low charge damage.
Low base damage.
Can only hit single target.
No polarities.
Normal attacks do not ignore armor.
Relatively high cost for what it does.
Acquisition
Skana can be purchased for
150 and the blueprint for 
 15,000.
Weapon Loadouts
Main article: Category:Skana Build
See the user build section for builds using this weapon.
Notes
This sword slightly resembles a katana, used by the medieval samurai of the Japanese age
Of all the starter weapons, the skana is the only one that cannot be bought with Credits.
See Also
Media